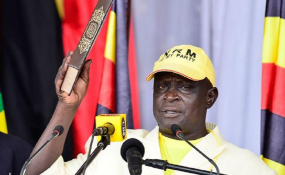 Photo: The Nation
By Felix Warom Okello
Business has been parslysed in Arua this afternoon after the bodies of slain MP Ibrahim Abiriga and his brother, Buga Said arrived at the airfield.
Shortly after its arrival, the chopper was seen flying high in circles indicating that the MPs body had arrived.
Hundreds of mourners closed their shops to wait for the bodies before making procession.
As soon as the plane touched the ground at about 4:40 pm, there was massive security breach and mourners poured in on airfield.
Several mourners broke down on the ground wailing in show of grief for their beloved MP.
A long queue of people lined up from the airfield which is about 2 kilometres to the town waiting to at least have a glance of the caskets being transported by A Plus Funeral vans.
This is the second famous person in the region to be shown such love after that of late Bishop Emeritus Fredrick Drandua, where hundreds of people gathered to escort the casket from Arivu, about 26 kilometers to Ediofe Cathedral.
Another huge number of mourners are waiting for MP Abiriga's body at his home in Anyafio.