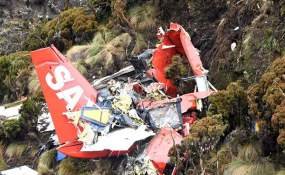 Photo: Daily Nation
By Waikwa Maina
An operation to retrieve the wreckage of FlySax plane that killed eight passengers and two crew at the Elephant Peak in the Aberdare Forest will resume Monday morning.
Njabini Deputy County Commissioner Daniel Nyameti yesterday said a team of investigators led by Kenya Civil Aviation Authority officers will assemble at his office before setting out for the crash site.
"The weather is friendly and the team leaves for the scene of the accident at around 6am. More details will be availed when the mission commences, we trust the weather will remain conducive for the mission," said the deputy county commissioner.
BAD WEATHER
Mr Nyameti said the area and routes leading to the wreckage are still out of bounds for the public.
The bodies of the 10 victims were recovered and transported to Nairobi on Thursday evening, two days after the Cessna C208 aircraft was reported missing after taking off for Nairobi from the Kitale airstrip.
The search and recovery exercise was hampered by harsh weather and steep terrain.
VOLUNTEERS
On board were the pilot, Captain Barbra Wangeci Kamau, First Officer Jean Mureithi and eight passengers -- Ahmed Ali Abdi, Karaba Sailah Waweru Muiga, Khetia Kishani, Matakasakaraia Thamani, Matakatekei Paula, Ngugi George Kinyua, Pinuertorn Ronald and Wafula Robinson.
Meanwhile, Nyandarua County has given a token of appreciation to the youth who took part in the search and rescue. Governor Francis Kimemia on Friday directed the county disaster management team to ensure the volunteers are compensated.