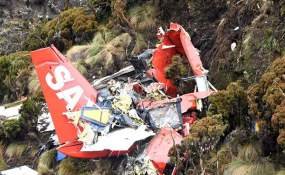 Photo: Daily Nation
By Joseph Muraya
Nairobi — Officials will Monday begin the process of recovering the FlySax plane wreckage in the Aberdares, as investigators seek to determine the cause of the June 5 crash.
The plane was destined for Nairobi from Kitale and was re-routed over the Aberdares because of bad weather.
There have been more questions than answers over the incident as relatives call for a speedy probe.
According to reports, pilot Barbara Wangeci was not familiar with the route begging questions whether operators at Jomo Kenyatta International Airport (JKIA) offered any assistance, and if it was timely.
The pilot was flying at 11,000ft when she turned towards the Aberdare ranges.
The plane crashed at the Elephant Hill, which towered over the plane at 12,815ft.
Investigators drawn from DCI Homicide, Aircraft Accident Investigation, Government Pathologist, Government Chemist, and Kenya Civil Aviation among others are expected at the scene on Monday.
The Kenya Pilots Airline Association has called for a "comprehensive technical investigation into the circumstances of this accident."
The Association's Chief Executive Officer Captain Murithi Nyagah says the probe should strictly follow the provisions laid out in the International Standards and Recommended Practices.
"It's (the probe) objective should be to determine the accident's contributing factors and make the necessary safety recommendations," he asserted.
Meanwhile, the bodies of those who lost their lives will be released to their families for burial, starting Monday.
This follows successful identification on Friday.
One of the 10 victims, Khetia Kishani, has already been cremated in a private ceremony at the Hindu Crematorium in Nairobi.