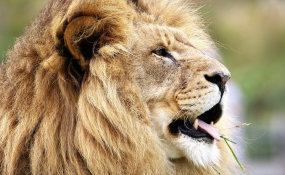 Photo: Pixabay
analysis
By Don Pinnock
An American is believed to have paid R1-million to bring down a Kruger Park lion from a pride beloved of tourists.
On Friday a male lion was shot by a trophy hunter in Umbabat Private Nature Reserve on the boundary of Kruger National Park. Unconfirmed reports suggest it may have been the leader of the Western Pride named Skye, beloved of many tourists. If so, his cubs will be killed by another male taking over the pride.
It is probable the lion was lured out of Kruger Park with bait provided by an elephant and buffalo hunt, which took place beforehand. The hunter, whose name has not been established but is believed to be American, is estimated to have paid over R1-million to pull the trigger. Everyone involved in the hunt appears to have gone to ground, all calls going to voicemail.
The hunt raises many questions about the protection of wildlife in Umbabat and the Associated Private Nature Reserves (APNR), of which it is a member. The biggest question is why the APNR reserves, on the unfenced western boundary of Kruger, are permitted to hunt animals from one of Africa's premier, state-owned game reserves.
APNR hunt map
Shortly before...