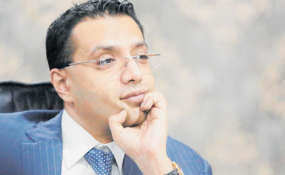 Photo: The Citizen
By Faustine Kapama
NBC Limited has sued businessman Yusuf Manji and four others, demanding 26bn/- outstanding amount on account of credit facilities extended differently.
According to the plaints of the commercial dispute filed before the High Court's Commercial Division, the first credit facility was extended to Farm Equip (Tanzania) Company Limited, with Manji and other defendants standing as guarantors.
Other defendants in the transaction include Tanperch Limited, Quality Group Limited and Mr Kaniz Manji. The second credit facil-ity was extended to Tanperch Limited reportedly guaranteed by Mr Manji, Quality Group Limited and Kaniz Manji, who are also defendants in the matter.
According to court summonses published in the media recently, all the defendants in the two transactions have to appear before the court on June 25, 2018, in person or by advocate when the dispute will come for mention.
"Take further notice that should you default to appear in court on the day and time mentioned, the suit will proceed and judgment may be given in your absence," the court warned in the summonses.
In the two commercial disputes, the bank, as plaintiff, is seeking for orders to sell landed properties placed as security in facilitating the credit facilities in case of the defendants' failure to pay the amount.
The properties include three plots at Ilemela Industrial Area in Mwanza. The plots, according to the plaints, are registered in the name of Tanperch Limited.
Another plot is at Sea View area in Dar es Salaam under the name of Quality Group Limited. The plaintiff further pushes for sale of fixed and floating assets of Farm Equip (Tanzania) Company Limited.
It is claimed that the assets were charged by the June 3, 2015 dated Debenture Instrument until full satisfaction of the outstanding amount due to the plaintiff.
The second facility was secured by distinct continuing securities like landed properties.
There was also fixed and floating Debenture over all assets of Tanperch Limited registered and stamped to cover unspecified amount.
It's alleged that there was a corporate guarantee of Quality Group Limited and personal guarantees by the two Manji brothers.
The plaints of the two commercial disputes indicate that both credit facilities were accepted by Farm Equip and Tanperch as principal borrowers before the plaintiff disbursed the required amount through respective accounts.
But, contrary to the terms in the facility agreements, the defendants failed to service the advanced facilities and interests at agreed rate. Upon the default, the plaintiff issued several demand notices to both principal borrowers and guarantors.
However, the defendants allegedly neglected, failed or refused to heed to the demand notices.
As of February 28, 2018, the outstanding amount on the first credit facility stood at 15,982,193,569/20 while the second was 5,468,274.23 US dollars.