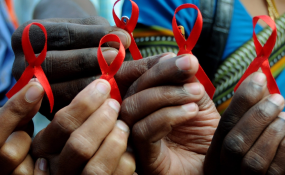 Photo: Daily News
By Leulseged Worku
U.S. Special Representative for Global Health Diplomacy, Ambassador Deborah L. Birx told The Ethiopian Herald indicated that a remarkable progress is being witnessed in Ethiopia.
According to her, several anti HIV/AIDS campaigns together with proper utilization of fund to combat the pandemic has helped the country to be a model nation.
"Because of the work we have done in Ethiopia, together with the governments and communities, the investments that we've made in community health workers and infrastructure, the number of health centers we've built across Ethiopia, both the Global Fund and PEPFAR, we've seen remarkable progress in Ethiopia."
She further said, "Ethiopia is approaching the situation where we call it that they are 'controlling their pandemic.' What do I mean by that? It means that the number of people infected with HIV is beginning to shrink, because of both their prevention and treatment work that we've done together with our Global Fund and PEPFAR investments."
Ambassador Deborah L. Birx indicated that the fund that was allocated to fight the pandemic has hit its target in Ethiopia.
"Ethiopia was one of the countries where largest investments was made by PEPFAR and Global Fund. Those dollars were put to highly effective work. And today, we're asking the team, the country and the government and communities to really come up with a long-term plan to ensure that the epidemic remains controlled and continues to shrink."
Ethiopia is poised to answer that for us in sub-Saharan Africa, and so their investments will be utilized in a different way. With all its challenges the economic growth of the country is bearing fruits. This economic growth is not a one way approach. Improved health of the society and prevention measures of pandemics is one way showing progress.
Health related challenges are one of the manifestations of Sub-Saharan African countries. HIV/AIDS is one of these common problems for the region.