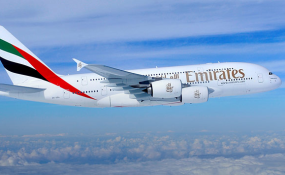 Photo: Emirates
Luanda — Emirates will, from 1 July, increase the number of flights between Luanda and Dubai to five, in order to guarantee better services and more options for passengers.
According to a press release from the air carrier arriving today, Angop, it is about the reintegration of two flights, from the current three frequencies, to five flights a week.
The document clarifies that, similar to what happens with the three current flights, it added flights will also be operated by a Boeing 777-300ER aircraft with a capacity for eight seats in first class, 42 in executive class and 310 in economy class, totaling 360 places.
The operator is looking forward to offering passengers access to other network destinations, including 35 in the Middle and Far East, 18 in Asia and more than 20 destinations in the Americas and Australia, with Airbus - 380 aircraft.