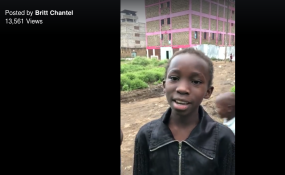 Photo: Screenshot
By Sylvania Ambani
A young girl has left the online community speechless with her vocal prowess and melodious voice.
The girl, identified as Gracious Amani from Githurai, performed a cover of American singer Alicia Keys hit song 'Girl on Fire' to a group of visiting foreigners in Nairobi.
The video shared by Brit Chantel has since gone viral.
"So before I came to Kenya I decided to try and limit my social media usage to be present and really take in this amazing experience with our InfluenceHerscrew but we're coming to an end and I had to post this beautiful moment!!" Chantel wrote.
"While finishing up one of our service projects with Fountain Youth this little girl came up to us as we were leaving and asked to sing a song. Then she blew us away... #undiscoveredtalent