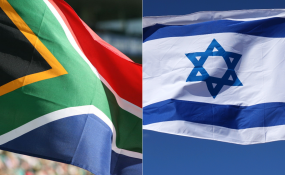 Photo: allafrica.com
City of Johannesburg Mayor Herman Mashaba has suspended his Health MEC Mpho Phalatse for publicly declaring that the city was a friend of Israel.
Mashaba announced the suspension during a council session on Tuesday.
Phalatse made the declaration on Sunday at a Friends of Israel event held in the city. She has since gone on to share more of her views of Israel on her Twitter account.
"The issue of the conflict in Israel is complex and requires a sensitive approach," said Mashaba.
The mayor said he was disappointed that Phalatse attributed her personal views to the city.
"The MMC's remarks didn't adequately address the complexity and sensitivity of the issue. They caused confusion," remarked Mashaba.
Other councillors, including the EFF called for Phalatse to be fired.
Councillor Sipho Sithole described Phalatse's comments as disheartening and called for her to be "wiped out of council".
"Any African subscribed to Zionism must hang his head in shame," said Sithole.
Source: News24