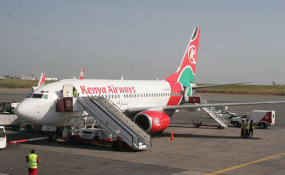 Photo: Daily Nation
By Business Daily
Eight Kenyan banks including Equity and KCB have advanced national carrier Kenya Airways additional loans amounting to Ksh4.3 billion ($42.6 million) as part of the ongoing capital restructuring at the airline.
The new debt is backed by government guarantees, protecting the lenders from the national carrier's default.
The airline, known by its international code KQ, defaulted on the lenders' initial facilities of Ksh16.7 billion ($165.3 million) and instead issued them with shares amounting to a 38.1 per cent stake as a compromise settlement.
Other banks that participated in the new lending to KQ are Commercial Bank of Africa, I&M , National Bank of Kenya, Diamond Trust Bank, NIC Bank and Ecobank.
Jamii Bora Bank and Chase Bank, who were in the original lending scheme, did not participate in the latest debt deals which occurred between April and December last year.
"The same banks with the exception of Chase Bank (Kenya) Limited and Jamii Bora Bank Limited gave a new term loan to the company amounting to Ksh4.3 billion ($42.6 million)," says the airline.
The new loans have an average interest rate of 7.2 per cent, significantly below the risk-free rate of 10.9 per cent on one-year T-bills.
The debt is scheduled to mature in 2027 and the government has committed to redeem it if KQ will be unable to repay the banks at that time.
The airline says the government has already issued guarantees worth Ksh1.4 billion ($13.9 million) to this end, with the backstop set to be enlarged in the coming years in line with the banks' commitment to issue a total of Ksh17.5 billion ($175 million) worth of new loans to KQ.
The new debt is meant to fund refurbishment of aircraft engines and general business operations.
Besides the local banks, the African Export-Import Bank (Afrexim) of the United States also secured government guarantees for the loans it is advancing to KQ including for purchase of 10 Embraer E190 aircraft.
The airline is still in financial distress, raising the prospect that the government will step in to pay some of its obligations. KQ says it debt service coverage ratio did not meet the threshold set on one of Afrexim's loans as of December.