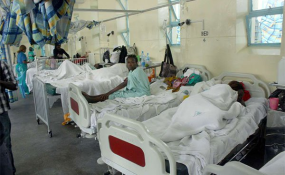 Photo: Daily Nation
By Faith Nyamai
The Ministry of Health has issued an alert on disease outbreaks in several counties.
Director of Medical Services Jackson Kioko said on Tuesday that four epidemics had been reported in the country since January.
Cholera, measles, Chikungunya and Rift Valley Fever outbreaks have been reported in various parts of the country.
Dr Kioko said the ministry had been working with the affected county governments to contain the epidemics.
He noted that a total of 4,954 cholera cases had been reported since the beginning of the year. Out of these cases, 75 deaths had been reported, he said.
The affected counties are Mombasa, Garissa, Siaya, Tharaka-Nithi, Meru, Kirinyaga, Busia, Tana River, Turkana, Murang'a, Trans Nzoia, West Pokot, Nairobi, Nakuru, Isiolo, Machakos, Elgeyo-Marakwet, Kiambu and Kilifi.
CONTAIN OUTBREAK
Dr Kioko said nine counties had managed to contain the outbreak.
The ministry had responded to the cholera outbreak by appointing a national disease outbreak task force.
He said the ministry had also responded by issuing alerts and educative materials.
Dr Kioko added that the ministry had been providing technical and logistical support to the affected counties by distributing testing kits and testing of referred samples at the National Public Health and CDC laboratories.
At the same time, the director said that a total of 39 and 103 cases of measles had been reported in Wajir and Mandera counties, respectively.
ACTIVE CASE SEARCH
"This outbreak has since been successfully contained through active case search, case management and enhanced outreach vaccination services," he said.
Regarding Chikungunya outbreak, Dr Kioko said 1,302 cases were reported in Mombasa, with 32 confirmed through laboratory tests.
In Lamu, he noted, 199 cases were reported, four of which were confirmed through lab tests.
Meanwhile, seven cases of Chikungunya were reported in Kilifi, with two confirmed through laboratory tests.
Dr Kioko further noted that 15 cases of Rift Valley Fever were confirmed in Wajir County last week, with five deaths reported.
"Four isolation centres have been set up to facilitate case management in the affected areas and Integrated Vector Control measures targeting mosquitoes are being undertaken in Basir area, Eldas Sub-County," he said.