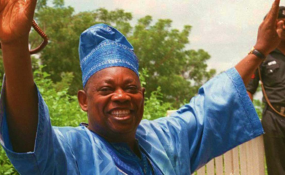 Photo: The Guardian
President Muhammadu Buhari has received commendations from various quarters as he confirmed the posthumous award of Grand Commander of the Federal Republic (GCFR) on the presumed winner of the June 12 presidential election, the Late Moshood Kashimawo Olawale Abiola.
The death of the politician after he was arrested was viewed as an attempt to stamp out democracy from Nigeria
As memories of the late politician live on, here are some interesting things you need to know about him:
1.He was a business mogul and started doing business at the tender age of nine. He started his first business selling firewood which he did to support his old father and siblings.
2.MKO attended Baptist Boys High School, Abeokuta, Ogun State, same as former President Olusegun Obasanjo.
3.He was the editor of the school magazine The Trumpeter, while Olusegun Obasanjo was the deputy editor.
4.He was his father's 23rd child and the first of his father's children to survive infancy, hence the name 'Kashimawo' (Let us wait and see).
5.He married many wives including Simibiat Atinuke Shoaga in 1960, Kudirat Olayinka Adeyemi in 1973, Adebisi Olawunmi Oshin in 1974 among others. He also fathered many children.
6.He was involved in politics in the early stage of his and joined a political party, the National Council of Nigeria and the Cameroons (NCNC) at age 19.
7.He was a publisher and chairman of Concord Press of Nigeria Limited. He also served as Chief Executive at Radio Communications Nigeria.
8.In 1994 he declared himself the lawful President of Nigeria in the Epetedo area of Lagos Island, an area mainly populated by (Yoruba) Lagos Indigenes, after which he was accused of treason and arrested on the orders of military President, General Sani Abacha.
9.From 1972 until his death Moshood Abiola had been conferred with 197 traditional titles by 68 different communities in Nigeria.
10.On July 7, 1998, only days before his scheduled release from prison, He died in Abuja, Nigeria, of a heart attack.