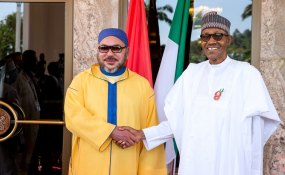 Photo: This Day
By Azimazi Momoh Jimoh
The Peoples Democratic Party (PDP) yesterday dismissed what it called "the image rescue effort" by President Muhammadu Buhari before Moroccan Prime Minister, Saadeddine Othmani, as "a poorly packaged deception to sugarcoat his deep-seated disdain for Nigerian youths."
The party said Buhari's action is a desperate afterthought aimed at reversing the public opprobrium he earned himself for his "lazy youths and lovers of freebies" comment, saying it was not borne out of genuine regard for our youths."
In a statement released by its National Publicity Secretary, Kola Ologbondiyan, the party said Nigerian youths now know better and could no longer fall for his tricks.PDP said Buhari should know that a visit to Moroccan prime minister could not wash away "the disgraceful invectives he openly poured on the energetic and vivacious Nigerian youths at the Commonwealth Heads of Government Meeting (CHOGM), where most of the world leaders were present."
The statement further added, "The PDP is aware of the desperate bid by President Buhari to stop at nothing to beguile the citizens once again that election is around the corner. However, it is important to inform him that Nigerians now know his true colour and will reject any design to take them on a second ride to nowhere."He should amply come to terms with the fact that the only expectation Nigerians require of him is to tender a direct apology for his performance."
Meanwhile, chairman of the party's Board of Trustees (BoT), Senator Walid Jibrin, said the party was not in a hurry to reconstitute the board, pointing out that the opposition would resist the plot by the Federal Government to clamp down on members.
Jibrin, who spoke yesterday in an effort to reconstitute the membership of PDP BoT, explained that the process would commence as soon as the party meets the requirement in the amended constitution of the party.
In a statement issued in Kaduna, Jibrin said the process of adopting the amendment, which empowers every state of the federation and the FCT to legitimately have one person representing them and five members from each of the six zones in the BoT is about to be concluded.
According to him, "I am working very hard with the state chairmen and our six national vice chairmen in order to bring forth very able, responsible, experienced and respected members into BoT.Jibrin said: "Once the exercise is concluded, the new BoT members and already existing members will now be inaugurated."