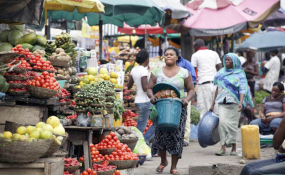 Photo: This Day
By Ibrahim Musa Giginyu, Richard P. Ngbokai, Habibu Umar Amin and Aliyu M Hamagam
Barely two days to Eid-el-Fitr celebration, residents in Kano, Jigawa and Katsina states as well as Zaria in Kaduna state, have expressed concern over increase in prices of essential commodities and non-payment of workers' salaries in the four states.
Kano Chronicle observed that while prices of the commodities such as textile materials, poultry products, perishable items and shoes among others have jumped-up few days to the annual festivity, workers in the affected states have not been paid June salaries.
Although most of the markets visited by our reporters in Kano were crowded with customers, traders lamented low patronage. It was also gathered that, prices of commodities have increased beyond many people's purchasing power.
A textile merchant at famous Kantin Kwari textile market, Alhaji Isa Usaini Oscar said that a textile material that was sold at N3, 000 last year now sells at N4, 000 and that of N2, 500 is now sold at N3, 700, noting that, the hike was responsible for the low patronage they were experiencing.
"Indeed, only few people can afford to purchase new clothes for themselves, their wives and children. You can see people pricing but only few do actually buy," Oscar said.
Kano Chronicle also gathered that poultry products have also experienced an increase in price as a kilo of frozen chicken that used to be sold at N750 is now N950. Findings at Tarauni market revealed that a live chicken that was sold at N1, 000 last year is now N2, 500.
Malama Zainab Abdullahi, a civil servant said "from all indications many people won't be able to eat chicken this Sallah, as for me I have already decided to go for beef."
According to a shoe dealer in Sabongari market, Alhaji Musbahu Abubakar, two things were responsible for the low patronage.
He said, "We believe the low patronage is as a result of the fact that people purchasing power is weak at the moment because they have not received their salaries and the little increase in prices of products experienced recently.
For instance, children shoes that were sold N1500 last year now sells at N2700 to N3000 and that of men that was sold N2500 is now N3700."
Also, a survey conducted by our correspondent in Zaria, revealed that prices of some commodities are actually going down. In Sabon Gari market, which is the main Zaria market, it was found that prices of foodstuffs like rice have lately gone down.
At the beginning of Ramadan, according to a rice wholesaler, Alhaji Munir Abdullahi, a 50kg bag of rice was selling for N14,500 but it had dropped to N14,200.
He said, "If you are buying in bulk, you can even get discount. We are happy because our people can afford what to cook during the Sallah festivities."
Similarly, price of cooking oil has also drooped, according to findings. For example, a 50-litre yellow Jerry can of 'groundnut' oil that was selling for N14,000 is now N12,000.
However, some products like spaghetti, macaroni, maggi and sugar are maintaining their previous prices. A packet of spaghetti remains N3,650, while a 50kg bag of sugar still sells at N15,000.
Investigation revealed that, a basket of fresh tomato that was selling for N3,000 is now N28,000.
Malam Isa Danladi said his wife introduced the idea of dried tomato to him, adding that; "since we can't afford fresh one, we have to go for dried one andhaving realising that people are rushing to their stalls, traders of the dried tomato are now increasing the price."
A popular tradition that residents of Zaria engage in during Sallah is 'Kaukawa'. It is a situation where residents form clusters and contribute money to buy cow and share the meat for the festivities.
Findings however showed that many residents may not afford meat this Sallah, because the prices of the animals have skyrocketed.
"For example, a similar size of cow that we bought last year at N100,000 has now doubled or even more. With the situation of the country now, I think many people would have to celebrate the Sallah without buying meat. Don't forget, some families only eat meat during Sallah," Danladi added.
Explaining why prices of some products dropped, Alhaji Abdullahi said the major factor was lack of money in the hands of residents.
"Our activities usually pick up after payment of salary. But this Sallah would be celebrated at the middle of the month. Most of the residents have used their May salary in sewing Sallah clothes for their families. Therefore, everything is now at standstill and since there is no patronage, prices had to drop."
In Jigawa state, civil servants groan as Sallah approaches without salary to make purchase for the festival. A civil servant working with state government, who does not want his name in print said the festival came at odd time of the month, noting that although they were paid their Leave Grant, that would not be enough to cover their Sallah expenses.
Another civil servant who only gave his name as Muhammadu Aliyu, lamented over poor financial position of civil servants in the state particularly during Ramadan fasting.
"During Ramadan period, one spends twice of what he used to spend. Only few of us that have good clients will be able to get the needed commodities on credit for the celebration but for those who don't have such privilege will celebrate theirs with an empty stomach."
At Dutse New market, the usual hustle and bustle was absent as most of the traders in the market were caught napping.
A chicken seller, Mallam Zakariyau Dufuwa, said despite the fact that the prices of the birds did not increase, patronage was very low, attributing that to the lack of cash in the hands of their customers, who were mainly civil servants.
In Katsina state, civil servants were fervently praying to either get a salary advance or their June salary to enable them celebrate the forth coming Sallah in a better way.
The rumor of salary advance has ripened in the minds of the workers with most of them seen discussing the issues in clusters at offices, mosques or under trees.
A staff of the state owned Radio station, who prepared to be anonymous, said, "We are just hearing that a salary advance is coming our way. We pray for it as it will go a long way in facilitating us having a swell Sallah celebration.
"Most of civil servants have spent their last month's salaries on Ramadan shopping and now Sallah is coming with other demands like provision of clothes, food and drinks among other demands."
Another anonymous civil servant said, "It has happened during the regimes of late Umaru Yar'adua and Shema, they issued Salary advance and even bonus to workers when we found ourselves in this kind of situation, we pray Governor Masari will also do the same to allow us enjoy Sallah."
The Chairman of the state chapter of the Nigeria Labour Congress (NLC) Tanimu Saulawa, assured that union was working hard to ensure that government do something on the issue of salary advance.
"If we are able to get salary advance fine, if not then people should manage the little they have pending the payment of salary," he said.
On his part, the NULGE chairman in the state, Aliyu Haruna Kankara said, "Workers have no reason to complain because Sallah falls in-between the month and it's not time for salary. Unless out of the government magnanimity it pays, it will help workers to celebrate and we will be appreciative."