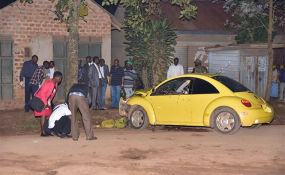 Photo: The Observer
opinion
By Charles Onyango-Obbo
The assassination of Arua Municipality Member of Parliament Ibrahim Abiriga on June 8, seemed to have terrified - not shocked - many Ugandans and made global headlines. Shock is what happened when the likeable Assistant Inspector General of Police and spokesperson of the Force Felix Kaweesi was killed in March 2017, in much the same fashion as the famously dyed-in-yellow ruling NRM's Abiriga was.
Reading the outpouring of social media reactions, two things stand out. One, because Abiriga's killing comes on the back of several unsolved murders of big and small Ugandans, there is a widespread view that his slaying will not be solved either. At most, some hapless innocent fellows, all beaten up, will be paraded before cameras for public relations reasons.
Second, that President Museveni's tough talk is futile. The view is that these crimes are part of a product of long-running of violence against the Opposition, runaway corruption, and nepotism that hollowed out State institutions rendering them ineffectual, and a "tired" leader who has been in power for more than 36 years. In other words, that Museveni himself is Uganda's biggest problem.
Whatever the case, for those who were not born the other day, all this is familiar. The wave of crime and killings are almost a copybook of what happened in 1979 and 1980, after the ouster of military dictator Idi Amin.
On April 19, 2009 The Monitor published an article 'Who was still killing and robbing Ugandans after Amin fell?' by Timothy Kalyegira, available on its website, looking at those 1979-1980 waves of killings. One might not agree with his take on who was likely behind the killings, but it makes for unsettling reading.
One cannot begin to imagine how then Inspector General of Police, David Barlow, dealt with the horrifying killing of his brother Dr Jack Barlow in July of 1979. Daily, the country would wake up to reports of a doctor, politician, military officer, activist, businessman killed or robbed.
It might well be that Abiriga's and Kaweesi's killing, and most of the rest that the Uganda Human Rights Commission (UHRC) has highlighted in a just-released report, were politically motivated. Or they could be driven by form of sabotage, or economic desperation.
It really doesn't matter because as in 1979/80, they are all driven by the same considerations - first, to kill someone for political reasons (unless you are a suicide bomber) or to kidnap them, you are motivated to do so the more certain that you will get away with it, because the State is too dysfunctional or incompetent to catch you, or you have protection.
In 1979/80, factions in the interim administration, the Uganda National Liberation Front (UNLF), resorted to killings partly to discredit each other and manoeuvre for power. In other words, assassinations in Uganda - going back to the 1960s, in fact, are used mostly by regime elements against themselves. Where rebels do it, it is often too obvious, there would be little need to argue about who was behind it.
The NRM seems to be in the same phase; the only question is what is their end game? There are two consolations here, if indeed that is what they are. To start with, Uganda is not alone in this rut.
Demographic shifts, and economic crises around Africa have left governments struggling to provide security. A report last year noted that, as a result, the number of private security guards across Africa is now more than double the number of police and government security forces. Thus two years ago, there were about 446,000 registered security guards operating in South Africa, compared with 270,000 police officers and soldiers.
Nigeria had more than 3,000 registered private security companies, with hundreds more operating informally. Some Uganda data from two years had 60 registered private security firms and nearly 40,000 guards.
There were no estimates for the "jua kali" guarding services, with someone speculating there were "over 100,000 guards" working informally.
The second consolation, beneath the bluster of Museveni and other tough men in the NRM, on my last visit to Uganda a few weeks ago, I noticed a decidedly "less militaristic" air in the country, despite all the crime.
And Museveni's State-of-the-Nation Address last week, was probably his least belligerent and most reflective in more than 15 years. It is still too early, but I detect that the regime is actually aware that the country is in crisis, and a reset to dig it out of the hole is necessary. So it seems a tiny window is open for a divided country to unite to stitch itself back together.
If the government was still tone deaf, then those young, energetic, angry young men who carried Abiriga's coffin to anti-government chants in Arua, should have driven the point home. Museveni is facing a mega challenge he can't resolve by shooting or jailing this time.
Mr Onyango-Obbo is the publisher of Africa datavisualiser Africapedia.com and explainer site Roguechiefs.com. Twitter@cobbo3