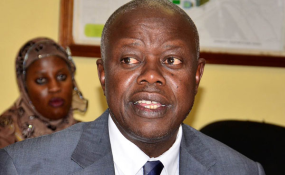 Photo: Daily Monitor
By Hope Wasui
Kampala — Makerere University Business School (Mubs) Principal Prof Wasswa Balunywa yesterday blamed the Ministry of Public Service for poor allocation of funds thus creating salary disparities at the institution and bred a lecturers' strike.
However, Prof Balunywa advised the striking lecturers to address their concerns to the right government authorities as the university management had completed negotiations with the different stakeholders.
"We have about 200 lecturers whose salaries have never been enhanced and that is not within our control," he said.
"The Ministry of Finance awaits a letter from the Ministry of Public Service and we were urged to see that the letter goes and money will come," Prof Balunywa said.
The lecturers went on strike yesterday, saying they would not resume work until their salary grievances have been addressed.
The Public Service ministry Permanent Secretary, Ms Catherine Musingwiire, declined to comment on the matter and referred Daily Monitor to the Ministry of Finance Permanent Secretary, Mr Keith Muhakanizi.
Mr Muhakanizi could not be reached as he was reportedly in a meeting.
Arrears
The lecturers are demanding about Shs45b that accrued from government's failure to honour partial salary enhancement and accumulation of unpaid salaries for assistant lecturers.
The lecturers under their Makerere University Business School Academic Staff Association wrote to Prof Balunywa on May 22 and June 6 seeking salary enhancement and payment of their arrears but their grievances were not resolved.