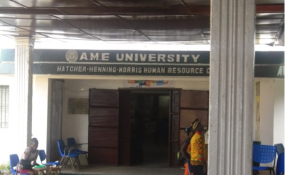 Photo: FrontPage Africa
By Willie N. Tokpah
Monrovia — Assaults and intimidation of media practitioners continued to permeate in some sectors in Liberia with institutions of higher learning like the African Methodist Episcopal University placing itself on the list.
On Monday, scores of reporters from approximately 10 news outlets were assaulted by the Chair of the Board of Trustees of the AMEU when they were providing coverage of an honoring day program.
Bishop E. Earl McCloud Jr. used invectives on the reporters accredited to cover the event.
He then ordered staffs to take away seats provided for them by the communication department of the university while the program was in session.
The incident occurred at the university main campus in Monrovia.
The reporters, who were humiliated by Bishop McCloud, noted that efforts to clarify their role at the event proved futile as the Bishop paid deaf ears to them.
"I don't care if you are journalists, all I am saying is get out of these chairs and leave this hall. Get yourselves from here," Bishop McCloud lambasted reporters.
The action of the Bishop was also witnessed by a FrontPage Africa reporter attending the occasion.
He was also seen forcefully removing female reporters from chairs in the midst of several guests who had gone to observe and participate in the event.
The situation nearly created scuffle, but the journalists were later control in a peaceful manner by an executive of the Reporters Association of Liberia.
At the same time, an inquiry by an executive of the Reporters Association of Liberia was greeted with stiff confrontation from some staffs at the school including the Vice President for Academic Affairs, Dr. Dawn Barnes.
"It is unfortunate that the Bishop who is a man of God and an administrator will act in such form and manner to media practitioners, especially journalists who are accredited to do coverage of events surrounding the 2018 convocation of the AMEU," the RAL said in statement later.
Bishop E. Earl McCloud Jr. is currently the Presiding Prelate of the 14th Episcopal District Chairman and AMEU Board of Trustees.
He was assigned to the position at the close of the 50th Session of the general conference held in Philadelphia, PA, July 2016, serving the areas of Liberia, Sierra Leone, Ghana, Nigeria, Cote D'Ivoire and Togo-Benin.
Press Union President Charles Coffey has condemned the latest assault on reporters by the AMEU Bishop.
Coffey, who also went on the scene, called on the school authority to do an open apology for the conduct of their Board Chair, warning that it should not be repeated.
However, an authority of the AMEU has expressed apology to reporters for the embarrassment caused by the institution Board Chair.
Dr. Q. Somah Paygai said the situation would not be repeated, noting that he will do a formal apology.