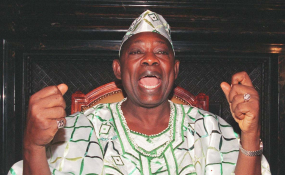 Photo: The Guardian
In his book, 'My Life and Nigerian Politics', Tony Anenih, who was the national chairman of Social Democratic Party, SDP, when the June 12, 1993 election was held, made a number of claims on the crisis.
Anenih, in the book launched in 2016, said Abiola told him repeatedly that Babangida was trying to embarrass him.
"On the issue of June 12, Chief MKO Abiola had called me on the phone to come for an urgent meeting in Ikeja. I flew to Ikeja and met Alhaji Babagana Kingibe, Dr Dele Cole, and Kola, MKO's son," he wrote.
"At the meeting, Chief MKO told us that his friend, Ibrahim Badamasi Babangida, planned to embarrass him. He kept repeating this without stating the type of embarrassment."
Later, Abiola insisted that they must leave his house for Kola's.
"He was terribly frightened and depressed. We all moved to Kola's house in Maryland. Right from this time, Chief Abiola was trying to get President Babangida on the phone, but each time he tried (Halilu) Akilu (then director-general, National Intelligence Agency) received the call," Anenih wrote.
"We could hear Chief Abiola telling Akilu to tell his friend (IBB) that they were still friends, and that he should allow him to be president, even for one day, and he would resign thereafter; that all the photographs they took together were still all over his house, and that he should not forget the past, and that God would bless him."