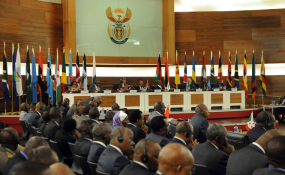 Photo: Daily News
AT least 12 countries under International Conference of the Great Lakes Region (ICGLR) are expected at the second Great Lakes Cooperation Network meeting starting in Dar es Salaam tomorrow.
According to a statement by the United Nations offices yesterday, the meeting main objective is to allow ICGLR countries to better fulfill their legal commitments under ICGLR Protocol on Judicial Cooperation and the Protocol against illegal exploitation of natural resources as well as under the framework agreement.
The meeting will bring together participants from the ICGLR countries, Angola, Burundi and Central African Republic. Others are Democratic Republic of Congo, Kenya, Rwanda, Sudan, South Sudan, the host Tanzania, Uganda, Zambia and the UN, specifically the Office of the United Nations Special Envoy for the Great Lakes region.
In February 2013, heads of State from 13 countries of the region met in Addis Ababa, Ethiopia, and signed the Peace, Security and Cooperation Framework pact, the Framework agreement. By their signatures, the Heads of State undertook several commitments, among them collectively increasing judicial cooperation within the region.
One key commitment of the agreement provides for the countries to "Neither harbour nor provide protection of any kind to persons accused of war crimes, crimes against humanity, acts of genocide or crimes of aggression, or persons falling under the UN Sanctions regime and to facilitate the administration of justice through judicial cooperation.
" At the conference on Strengthening Judicial Cooperation in the Great Lakes Region in Nairobi, Kenya, on April 19-20, 2016, the participants recommended the creation of the Great Lakes Judicial Cooperation Network to serve as a cooperation tool for criminal matters for use of judicial actors in the region.