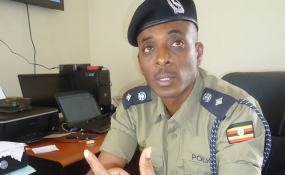 Photo: Observer
The former commandant of the police Flying Squad Unit and head of the Manpower Audit Herbert Muhangi has been arrested.
According to a family member who preferred anonymity, Muhangi was arrested last night from his home in Namugongo by non-uniformed personnel who identified themselves as operatives from the Chieftaincy of Military Intelligence (CMI).
He had reportedly just returned when the operatives surrounded the home. "We have not heard from him since," the family member said.
Information about the arrest is however still scanty, But it is said that he was arrested together with former police director Atwooki Nduhura, cyber crime officer Richard Ndaboine and five other officers. They are reported to be detained at Makindye military barracks.
Police spokesperson Emilian Kayima declined to comment on the matter saying, "let's wait and see."
However, all the officers who are reported to be arrested cannot be reached on phone and are not in their offices.
The reported arrest of the officers came barely hours after military personnel stormed two hotels in Lyantonde where former police boss Gen Kale Kayihura was a regular reveller. Kayihura was today picked up army officials from his country home in Lyantode led by deputy chief of defence forces Lt Gen Wilson Mbadi and airlifted to army headquarters in Mbuya.
Muhangi and the other officers reported to have also been arrested were close allies of Kayihura and handled most of the high profile operations under his direct supervision.