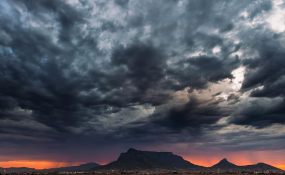 Photo: Bruce Davidson/Twitter
Cape Town traffic officials are on high alert as a powerful cold front makes landfall, with significant rainfall expected.
The South African Weather Service (SAWS) predicted 100% rainfall for Cape Town and most parts of the Western Cape on Thursday.
"We've got some localised flooding, but nothing too serious. We're expecting more rain later," Maxine Bezuidenhout, media spokesperson for Cape Town Traffic Services, told News24.
"All our emergency services are on high alert; we have visible traffic policing on all the major highways," she added.
Capetonians woke up to rain, thunder and lightning on Thursday morning after a calm and warm Wednesday, but the expected massive cold front is only due later in the day.
"Most of the rain is pre-frontal rain. The real cold front will only pass this afternoon - about 13:00," SAWS forecaster Edward Engelbrecht told News24.
"The real cold air will only move through by 13:00."
Hoax message
Cape Town's Disaster Risk Management warned residents not to share a hoax message that was doing the rounds on social media.
"There's a hoax message going around that hurricane winds will hit Cape Town," spokesperson Charlotte Powell told News24.
She said that the centre was being flooded by anxious callers, making it difficult to attend to emergencies as the agency prepared to render assistance to people affected by the weather.
The fake message warns of 80mm rain, snow and mudslides in Cape Town.
SAWS weather data showed that rainfall would decline to 60% on Saturday, but maximum temperatures would remain locked in the mid-teens through to Wednesday.
Engelbrecht said that, despite the cold, no snow was predicted for the Western Cape in the forecast period.
"There's no snow for the Western Cape for today [Thursday] or tomorrow, but snow is expected over the southern Drakensberg for tomorrow [Friday]."
Source: News24