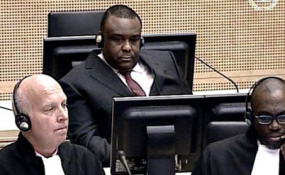 Photo: Radio Okapi
By Kylie Kiunguyu
Jean-Pierre Bemba Gombo, the Congolese ex-vice president, has been given an "interim release" by the International Criminal Court after serving more than 80% of the maximum possible sentence. Bemba will be handed over to neighbouring Belgium, where his wife and five children live.
The Appeal Judges claimed that it would be "disproportionate" to detain him while he awaits his second case decision. Judges said they had ascertained an "apparent discrepancy between the limited numbers of crimes within the case's scope for which Mr Bemba was held responsible", compared to the assessment of his case.
He has filed an appeal for his second case against a conviction for offenses "against the administration of justice."
Reactions to the ruling
Human rights group Amnesty International said it was a "huge blow for the many victims" who had suffered during the war waged in the central African country.
Head of the Amnesty International's Justice team, Solomon Sacco, said in a statement, "The decision to acquit Jean-Pierre Bemba Gombo is an important reminder that international justice is only possible if all suspects receive stringently fair trials before an independent and impartial judiciary."
"While the Appeals Chamber has held that Mr Bemba was entitled to an acquittal, the decision will be felt as a huge blow for the many victims of the 'war against women' waged in the Central African Republic through a horrifying campaign of rape and sexual violence," said Sacco.
Details of the case
In 2007, International Criminal Court (ICC) prosecutor Luis Moreno-Ocampo decided to open investigations into crimes committed in the Central African Republic.
Bemba was caught and arrested near Brussels on 24 May 2008 following a warrant issued by the ICC. Although he was initially charged with three counts of crimes against humanity and five counts of war crimes committed by fighters under his command, the court later reduced this to two counts of crimes against humanity and three counts of war crimes.
In 2006 he was convicted of the reduced charges and given an 18-year sentence in a landmark conviction by the ICC for war crimes and sexual violence, i.e. murder, rape and pillaging between October 2002 and March 2003, when militia troops of the Movement for the Liberation of the Congo (MLC), who were under his command, were sent into neighbouring Central African Republic to quell a coup attempt.
Ten years later, on 28 September 2016, Bemba served the ICC Appeals Chamber with an appeal against his 18-year conviction. In his appeal, Bemba cited numerous procedural and legal errors in the judgment and alleged a mistrial. leading to the overturning of the conviction by Judge Christine Van den Wyngaert.