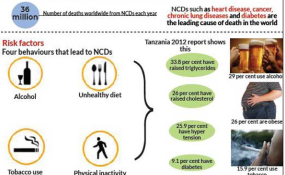 Photo: Citizen Tanzania
Asmara — The Ministry of Health organized a workshop on non-communicable diseases from 12 to 13 June with the objective to increase the understanding of the stakeholders on the status of the diseases and conduct integrated effort in controlling them.
Speaking at the event, Dr. Andebrhan Tesfatsion, Acting Director General of Public Health at the Ministry of Health, indicated that the non-communicable diseases such as hypertension, cardiovascular, cancer, asthma, diabetics and others have been for long health concerns worldwide. Dr. Andebrhan reiterated that the objective of the workshop is to establish a committee that will oversee and coordinate the effort to control and eradicated the non-communicable diseases.
At the workshop briefings were given on the causes, symptoms and characters of the diseases.
The medical practitioners at the Orrota Referral Hospital called for regular medical checkup in a bid to know ones health status, policy on prohibiting smoking at public areas, sustainable awareness raising campaigns on the causes and consequences of non-communicable diseases, putting in place safety procedures at work places as well as stopping traditional medications against the diseases.
Indicating that the non-communicable diseases are 70% associated with daily lives of people, Mr. Tesfaledet Woldeab from the Public Health at the Ministry of Health, called for active participation of all stakeholders in the effort to control and eradicate the diseases.