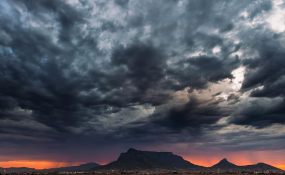 Photo: Bruce Davidson/Twitter
Pre-frontal rain has caused flooding in parts of Cape Town, but no loss of life has been reported.
A powerful cold front made landfall on Thursday, and the City's Disaster Risk Management Centre reported flooding in a number of informal settlements.
"Flooding has been reported in the following informal settlements: BM Section, Green Point, Town 2 and Taiwan in Khayelitsha and Masicindane informal settlement in Strandfontein. Roofs have been blown off in Asanda Village in Strand," it said in a statement.
"A few roads have [also] been flooded across the metropole. Disaster Risk Management staff are busy with assessments and roadways are being cleared by the Roads and Stormwater Department."
But the rain has not had a significant impact on traffic in the city so far. "People are behaving. They're driving with their lights on and there are no major issues on the roads at the moment," Maxine Bezuidenhout, media spokesperson for Cape Town Traffic Services, told News24. Rainfall figures Preliminary rainfall figures in Cape Town suggest that the cold front will deliver much-needed rain to the city, which has been suffering from a drought.According to Cape Town Weather Office forecaster Kate Turner, significant rain fell on Thursday morning in the key catchment areas to feed Cape Town's dams.Here are the rainfall figures taken between 08:00 and 09:00:
- Saldanha 25mm;
- Villiersdorp 17.8mm;
- Franschhoek 16mm;
- Bellville 16.2mm;
- Slangkop (Kommetjie) 16mm;
- Cape Point 9.8mm;
- Kenilworth 11.2m.
- Mitchells Plain 11.6mm.
"This was only taken this morning and that would have been a two-hour accumulation. Those are the start of the rainfall figures," Turner told News24.
Drought
Despite the higher rainfall, Cape Town remains affected by a drought.
"From May, we've seen more frequent cold fronts through the Western Cape compared to last year, and they are pushing a bit further north compared to last year," South African Weather Service forecaster Edward Engelbrecht told News24.
Despite the welcome downpour, he warned that the drought was here to stay unless much more rain fell."We are expecting slightly above normal rainfall for the winter season. That doesn't mean that it will break the drought." Dam levels around Cape Town have increased to 32.1%, compared to 29.8% last week, and just 20.9% in 2017. Key dam Theewaterskloof lies near Villiersdorp, which received significant rain. It is currently 21.5% full.
Source: News24