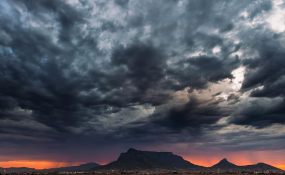 Photo: Bruce Davidson/Twitter
Cooperative Governance and Traditional Affairs Minister Zweli Mkhize on Wednesday announced that the national state of disaster had lapsed and would not be renewed.
"I have decided not to renew the state of the national drought disaster when it lapses on 13 June, 2018", Mkhize said in a statement.
However, the Western Cape still remains a disaster area due to the drought in the region.
Premier Helen Zille officially declared the Western Cape a disaster area in May 2017. Despite recent rains, municipalities across the province are implementing level 1 to 6 water restrictions.
The national state of disaster was declared in March, following concern over the drought which was affecting most parts of South Africa.
Mkhize said the declaration had led to various interventions being initiated by different spheres of government.
"The respective spheres of government mobilised and reprioritised resources in their existing allocations, expedited procurement processes and accessed R433.524m from the respective disaster grants to implement the augmentation and other immediate relief projects," said Mkhize.
Of this money, Mkhize said R348.836m had been transferred during the 2017/18 financial year and R84.678m would be transferred from the Provincial Disaster Grant during the 2018/19 financial year.
In May, the National Joint Drought Coordinating Committee (NJDCC) conducted assessments that showed the acute phase of the drought in provinces like the Western Cape, Eastern Cape, and Northern Cape, was at its end and was now entering the "resilience-building phase".
Mkhize said the resilience-building phase was currently the key focus in dealing with drought, as a concern for adaptation to climate change.
"This entails, amongst others, improving the identification, funding, coordination and management of resilience-building projects aimed at increasing resilience and reducing vulnerability to drought."
He said the NJDCC would broaden its focus beyond the continual monitoring of resilience-building projects. This would include focused projects, funded from the allocations of the respective organs of state, in the Medium Term Expenditure Framework (MTEF) aimed at the identification and implementation of Disaster Risk Reduction projects.
"The existing classification of a national disaster remains in force with the implication that the national executive would still be responsible for the coordination of the drought interventions," Mkhize said.
Source: News24