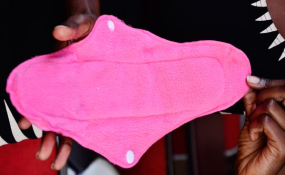 Photo: Alex Esagala/Daily Monitor
By Deogratius Kamagi
Dar es Salaam — Women were among big budget winners yesterday as the government proposed to exempt Value Added Tax (VAT) on sanitary towels in the 2018/19 financial year.
The exemption was alongside other VAT reliefs announced by finance minister Dr Philip Mpango.
The minister hoped his move will avail cheap towels to women and schools girls. The move is a big win for campaigners who have championed for free distribution of the towels to keep girls in school.
Manufacturers of local pharmaceutical packaging material were also exempted from VAT as were importers of animal and poultry feeds and additives.
The exemption on the pharmaceutical packages was aimed at reducing the production cost and protect Tanzania's nascent pharmaceutical industry.
However, this would be done on condition that the packaging materials must be printed or labelled with the name of the local pharmaceutical company.
The scrapping of VAT will also reduce costs incurred by livestock keepers and increase the contribution of the sector to the economy.
Dr Mpango also suggested that his office be able to exempt the tax on government projects funded through non-concessional loans.
This will speed the completion of many stalled projects.
The minister will also enjoy the same powers in agreements signed between the government to government or a financial institution or bank on behalf of the parties.
All these VAT measures will reduce government revenue by Sh219.1 million.
Issues on Pay as You Earn (PAYE) tax could not be touched in the expenditure estimates speech, but in the 2016/17 budget the tax rate were reduced from 11 per cent to 9 per cent on the lowest taxable band (monthly income from Sh170,000 to Sh360,000).
Speaking at the climax of International Labour Day in Iringa, Secretary General of Trade Union Congress of Tanzania (Tucta) Dr Yahaya Msigwa asked the government to reduce PAYE tax and review minimum wage of public and private sector workers.