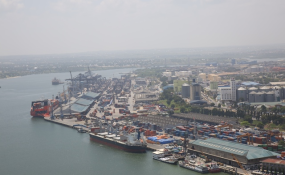 Photo: Daily News
Dar es Salaam. Stakeholders Must Be Wearing a Broad Smile Following the Government's Decision to Cut Corporate Income Tax Rate From 30 Per Cent to 20 Per Cent for New Investors in Pharmaceutical and Leather Industries.
The tax cut will last for the next five years starting with effect from the 2018/19 financial year.
This comes after the government proposed an amendment of the Income Tax Act, CAP 332.
The minister for Finance and Planning, Dr Philip Mpango made this revelation when tabling the 2018/19 budget in Dodoma yesterday.
According to him, the government decided to amend the Income Tax Act, harbouring hopes that it will increase revenue by Sh220.5 million.
"The government will sign a Performance Agreement with investors. This is expected to promote investment in manufacturing of pharmaceutical and leather products," the minister said.
"When manufacturing becomes vibrant, many employment opportunities will be created, which will help in raising the government's revenue," he said.
Dr Mpango said the new plan will also help save foreign currency, which is currently being used to import these products.
According to him, the government aims at deleting Section 10A of the Income Tax Act, which prohibits the minister responsible for finance from issuing income tax exemption for government projects financed by non-concessional loans.
This measure is intended to give powers to the minister to exempt income tax when there is an agreement.