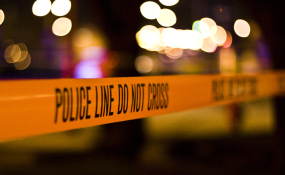 Photo: Tony Webster/Flickr
By Fatma Abdu
THIRTEEN people, including eleven National Service recruits and a Tanzania People's Defence Forces (TPDF) soldier died yesterday in a road accident in Mbeya Region. The accident occurred at Mwansekwa slope in Mbeya Urban, involving a bus belonging to Igunga Transit.
President John Magufuli sent condolence messages to Mbeya Regional Commissioner (RC), Amos Makalla and Chief of Defence Forces (CDF), General Venance Salvatory Mabeyo, following the tragic accident. The National Service recruits were travelling from Tabora Region to Itende National Camp in Mbeya Region for further training when the bus veered off the road on the slop before it overturned.
"With sad feelings, I have received information on the tragic accident that occurred yesterday at Mwansekwa slop in Mbeya Urban, involving a bus belonging to Igunga Transit company in which 13 people, including 11 National Service recruits, a soldier and the driver of the bus lost their lives," the Head of State said in a statement availed to the press by the Directorate of Presidential Communication.
He added, "Our youths were travelling from Tabora to Itende National Service in Mbeya Region for training. We have lost our brave youths who volunteered to fight for the nation. I have been hurt by the sudden demise of these youths." As a result of the accident, Dr Magufuli who is also the Commander-in-Chief of Armed Forces sent the condolence message to CDF Mabeyo, National Service Commandant Major General Martin Busungu and the families of the bereaved.
He also prayed for quick recovery of 25 others who sustained injuries in the accident. Meanwhile, the University of Dar es Salaam (UDSM) community yesterday paid last respects to students and staff who perished in a grisly accident on Monday. The University Chancellor, former President, Jakaya Kikwete sent his condolences to the University communality and families of the fallen students.
The former Head of State expressed his shock and sadness following the sudden demise of students. The University Deputy Vice-Chancellor (Administration), Prof David Mfinanga said the university has lost hard working staff and committed students who were striving to catch up with their future dreams. On Monday evening, the University ambulance collided with a truck at Riverside area in Ubungo.
The University driver, James Rutayuge, assistant nurse, Jonatrhan Lung'ando, a second year students Erasto Sango and Maria Soko, first year student perished in the accident.