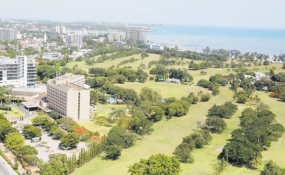 Photo: The Citizen
By Alawi Masare
Dar es Salaam — ACT Wazalendo party leader Zitto Kabwe has punched holes and proposed changes in the government budget tabled last Thursday.
Mr Kabwe who was presenting his party's post-budget analysis on Sunday said Tanzania's budget is lacking credibility by spending out of Parliament approval and important productive sectors like agriculture were allocated with little resources.
He also said even the current budget is likely to miss revenue targets by 25 per cent as business transactions were declining.
"We also doubt even the figures on economic growth because sectors that grew fast contribute minor shares in the GDP," he said.
Proposals
Mr Kabwe proposed to scrap VAT on tourism to accelerate growth of the sector which is currently the leading foreign exchange earner.
Before introduction of VAT on tourism services, the number of visitors was growing by 12 per cent but after the imposition of the tax the sector grew by just 3 per cent.
Mr Kabwe said the removal of VAT on sanitary towels was a good move but wants the government to excempt excise duty and abolish income tax on producers of the products.
He also suggested the government to ban export of hides and offer tax credit on processed leather as a way of complementing the proposed five-year reduction of corporate tax from 30 per cent to 20 per cent on the leather factories.
Mr Kabwe proposed abolishing of 10 per cent excuse duty on mobile money transfer and reduce Skills and Development Levy from the current 4.5 per cent to 2 per cent.