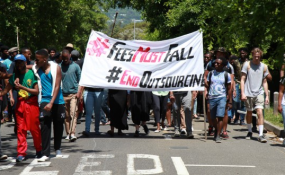 Photo: The Daily Vox
analysis
By Nkateko Mabasa
On June 16, #FeesMustFall student activists gathered at the Apartheid Museum to hold a debate reflecting on the contested legacy of the Fallist movement. It was unanimously agreed among the panelists and on the floor, that although #FeesMustFall did not achieve everything it had planned, it did not mean it failed. The free education pronouncement made last year by then-president Jacob Zuma was a seen as a huge accomplishment despite differing views on what went wrong.
The debate, hosted by the Apartheid Museum at the George Bizos Gallery, to commemorate the 42nd anniversary of the 1976 Soweto Youth Uprising on Youth Day invited #FeesMustFall student activist Busisiwe Seabe, a Fallist and honours student at Wits University, Ntokozo Qwabe, a Rhodes Must Fall activist at Oxford University, and Funzani Mtembu, a University of Johannesburg financial investment graduate and Pan-Africanist. Journalism lecturer at Cape Peninsula University of Technology, Asanda Ngoeseng was also a panelist, reflecting on the significance of the movement as an academic.
The debate's aim was to highlight the "many objectives" of the "decolonisation...