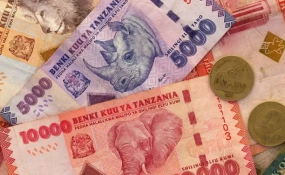 Photo: Daily News
By Ludger Kasumuni
Dar es Salaam — The shilling has depreciated by 1.47 per cent in a year, despite the regular interventions of the central bank to control volatility, according to the latest Monthly Economic Review (MER) published by the Bank of Tanzania (BoT).
According to the May MER, the shilling depreciated against the US dollar to Sh2,270.3 per US dollar from Sh2,258.2 per US dollar in the preceding month.
"On annual basis, the shilling depreciated by 1.47 per cent from Sh2,237.3 per US dollar in April 2017, reads part of MER.
Transactions in the inter-bank foreign exchange market (IFEM) rose to $139.1 million in April 2018 from $118.5 million in the preceding month, following increase in seasonal demand for foreign exchange for imports, according to the same report.
"The Bank of Tanzania participated in the IFEM for the purpose of managing liquidity and smoothening out undue exchange rate volatility by selling a total of $99 million," BoT report reads.
An independent economist, Mr Joseph Matala, told The Citizen that since 2016/17 financial stability of a Shilling has been sluggish against powerful foreign currencies due to the fact that the country's export capacity has been weakening.
"In 2016/17 financial year the country's exports declined by almost half and the recent data show that there are no any efforts to restore exports at the required level of stabilizing the national currency," said Mr Matala.
Regarding what should be done to boost exports, he said there was a need to embark on market driven industrialization to produce goods and services that fetch lucrative market in the global arena.