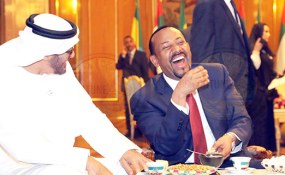 Photo: Addis Fortune
By Addisalem Mulat
ADDIS ABABA --The United Arab Emirates pledged a total of 3billon USD aid and investments in Ethiopia as UAE Crown Prince Sheikh Mohamed Zayed arrived in Addis Ababa for official state visit on Friday.
Upon conferring with Ethiopian Prime Minister Dr. Abiy Ahmed, the two countries also agreed to step up ties in different spheres.
Of which the total amount of aid and investment, 1 billion USD will be deposited in the National Bank of Ethiopia targeting at easing sever foreign currency shortage and the remaining 2billion USD will serve to finance various investments in the country, according to Ahmed Shide Minister of Ethiopian Government communication Affairs, who attended the talk. .
Both countries also singed ranges of memorandums of understanding (MoUs) in the areas of culture, tourism, economy, consular affairs and other related aspects.
The economic cooperation was signed between the two countries to facilities all forms of economic cooperation. The pledged investments include the development of modern hospital buildings, housing constructions, big malls hotels, among others.
By the same token, the two countries have signed a memorandum of understanding on mutual exemption of diplomatic passport in the two countries pre-entry visa requirement.
Since taking office, the New Prime Minister has been engaged on various diplomatic activities in neighboring and Middle East countries and UAE's move is part of the success, added Ahmed.