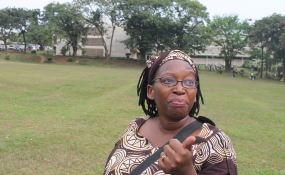 Photo: The Nation
By Valentine Obara
Controversial Ugandan scholar Dr Stella Nyanzi is set to give a talk on feminism and patriarchy in Nairobi this Tuesday.
The university don, popular for her frank debate on sexuality and a fearless critic of President Yoweri Museveni's government, will be among three other panelists in the event organized by the Heinrich Böll Stiftung foundation.
Dr Nyanzi confirmed her arrival in Nairobi on Monday morning through a post on her Facebook page, saying she was elated to find her name is no longer in the No Fly List in Uganda.
"My birthday merriment extended to Nairobi in Kenya where I am spending a few days with amazing bad-arse feminists from six East African countries," she stated.
Other panelists in the Tuesday's dialogue, titled 'Dismantling Patriarchy: Feminist Perspective on Democracy in Eastern Africa', are Marilyn Muthoni Kamuru (Kenya), Salma Maoulidi (Tanzania) and Hawa Y. Mire (Somalia).
"I will boldly embrace the honour of being part of a panel discussing the marriage between political activism and feminism," she said.
A brief by the host organization said the forum is a monthly event meant to encourage dialogue on pertinent national issues to inspire gender-focused analysis of policy and programmes.
Dr Nyanzi quit her role as lecturer at Makerere University in 2016 after she was suspended for engaging in a nude protest at the institution following a disagreement with a colleague over office space.
She was arrested in 2017 over two counts of cyber harassment after criticizing Uganda's First Lady Janet Museveni using vulgar language.