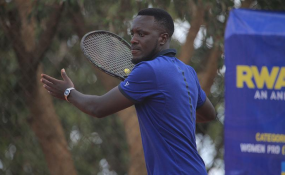 Photo: Sam Ngendahimana/New Times
By Damas Sikubwabo and Jejje Muhinde
Rwandan tennis players will start the quest for a first Davis Tennis Cup title today facing Nigeria in the opening match that goes underway in Nairobi, Kenya.
The match starts this morning, 10am, at Nairobi Tennis Club.
The annual men's international competition started on Monday (yesterday) and will run through June 23 on clay courts in the Kenyan capital.
The week-long tournament has attracted a total of nine countries, sub-grouped into two pools.
Rwanda has been drawn in Group A alongside Benin, Cameroun and Nigeria while Group B is comprised of five nations; Uganda, Mozambique, Algeria, Namibia and the hosts Kenya.
On Monday, Kenya's Sheil Kotecha registered an opening win after beating Uganda's David Oringa in straight sets; 6-0, 6-2 in Pool A while in Pool B, Algeria's Mohamed Makhlouf lost to Namibia's Erasmus Jean in two sets; 6-0 and 6-2.
Another Namibian, Jacobs Tuki, edged Rihane Youcef of Algeria; 6-3, 6-0, to get off to an impressive start.
Led by team captain Olivier Havugimana, Rwanda is represented by four players at the 2018 Davis Cup Africa Zone Group III Championship. The other three being; Hamisi Gatete, Ernest Habiyambere and Etienne Niyigena.
While talking to Times Sport in a telephone interview from Nairobi on Monday, team captain Havugimana said they (players) were all in great form and ready to face any opponent.
Today
Rwanda Vs Nigeria
Thursday
Rwanda Vs Benin
Saturday
Rwanda Vs Cameroun