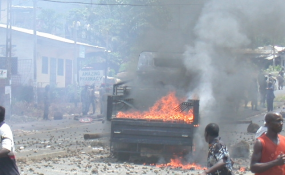 Photo: The Post (Buea)
By Issa Tchiroma Bakary
Below is a press release from Minister Issa Tchiroma Bakary.
« The Minister of Communication hereby informs the national and international community that a civilian couple, namely, Mr Muzam and wife Mrs Muzam Mary Ngah, aged 47 and 42, respectively, was coldly murdered last Saturday, June 16, 2018 at about 4:30 pm, at the Atanga neighbourhood, on the road to Batibo Subdivision, Momo Division, North West region, at the Ambo village located in the territorial jurisdiction of the same subdivision.
On the day of the tragedy, the helpless couple was on its way to assist a parent, the mother of Mr Muzam, who had been ill for sometime. When they got to Atanga, they were kidnapped by their abductors, who, after muzzling, trying and blindfolding them, took them in front of the chapel where they were eventually killed, visibly with a firearm.
The remains of the unlucky victims were taken to the Batibo hospital mortuary
It should be noted that this crime was committed in retaliation for the commitment of this couple to ensure the smooth functioning of school at Atanga, as well as for their political activism in favour of the CPDM, the ruling party. In fact, Mrs Muzam Mary, strongly supported by her husband, was until her death, the President of the Batibo Sub-section of the WCPDM.
It was under this banner that the couple refused to adhere to the call to boycott the festivities marking the 46th national unity day on May 20, 2018, and had been strongly involved in the local success of this major national event.
The Minister of Communication is, on behalf of the Government, once again calling on the national and international community to bear witness to the obscurantism and the bloodthirsty drift of these terrorist bands, who do not care about the values of civilization and the imperatives of peace, stability and mutual tolerance that govern our nation.
This despicable act - one more among the many that have been perpetrated against innocent civilian populations - has sparked an outcry from the population of this locality and plunged whole families into an unspeakable turmoil.
Two children of the deceased, aged 10 and 6 were picked up by the National Gendarmerie and taken to the headquarters of the North West Gendarmerie Legion. Contact has been made with their 24-year-old elder sister who resides in Douala, for her to take care of her younger ones.
The President of the Republic, His Excellency Paul Biya, addresses his most heartfelt condolences to the deeply bereaved families.
In the same vein, the Head of State has instructed that urgent and appropriate measures be taken to assist the bereaved family.
Still on behalf of the Government, the Minister of Communication is hereby reminding our defense and security forces that the entire nation is proud of them, for their exemplary commitment and professionalism in the relentless struggle they are leading to defend the ideals of peace, stability, sovereignty and territorial integrity of our nation».
J'aime