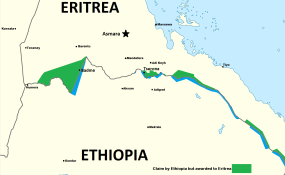 Photo: Skilla1st/Wikimedia Commons
By Yohanes Jemaneh
ADDIS ABABA - The recent two progressive decisions that have aimed at bringing economic reform and peace with Eritrea are part and parcel of ensuring economic growth and lasting peace in the Horn, said Prime Minister Dr. Abiy Ahmed.
Presenting a report on country's current affairs during the Fourth Special Session of the parliament, the Premier said yesterday that despite registering fastest growth, country's economy needs reform to curb problems relating to inflation, GDP reduction and unemployment.
Currently the country's per capita income has reached 863 USD. However, the economic growth has dropped to one digit and inflation stands at two digits compared to last year's same period performance.
The country's trade imbalance between import and export has reached to 2.2 percent despite the 0.02 percent increment in commodities export over the past six months in comparison to last year's same period.
This year, the capital of investment projects has decreased by 7.7 billion USD. Similarly, the decrement in export has triggered the shortage of hard currency. Therefore, controlling contraband and black market as well as improving the quality of products are crucial to curb the economic impediments that the country is facing now, he noted.
Country's debt has reached 24.7 billion USD of which 56.1 percent and 43.9 percent shared by the government and public development enterprises respectively. "This has pushed the country to be in the list of high risk of debt distress nations in the world."
He, therefore, said that the opening up of some of the public enterprises to the private investment is significant to solve problems related to the persistent shortage of hard currency, unemployment and poor service provision.
According to him, the country has registered notable diplomatic achievements like the release of overseas Ethiopian prisoners, the enhancement of economic integration, and the acquisition of foreign currency.