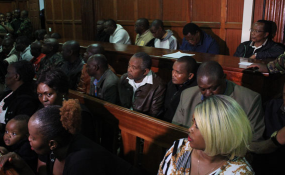 Photo: Capital FM
Nairobi — The High Court has freed all the suspects charged with the scandal at the National Youth Service, but with stringent terms.
All the 40 suspects have been ordered to pay Sh 5 million bond with a Sh2 million surety and Sh1 million cash bail.
Justice Hedwig Ong'undi, who ordered their release, ruled that there was no convincing reason from the state that the accused persons are likely to interfere with witnesses.
The accused persons have been in remand for close to three weeks now from when they denied charges of taking part in the theft.
Those freed include Principal Secretary in the Ministry of Public Service Lillian Omollo and NYS Director General Richard Ndubai, who stepped aside prior to their arrest and subsequent prosecution.