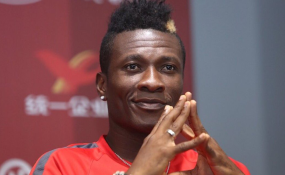 Photo: Asamoah Gyan/Twitter
By Socrates Mbamalu
The contestation and valid claim that Asamoah Gyan and not Cristiano Ronaldo is the first football player to score at nine major international tournaments has sparked heated debate on social media. Gyan was the first player to reach the mark in 2015, but that fact is not widely known. The debate raises the question: Why do Africans, and the media not celebrate their own?
Ghana's Asamoah Gyan and not Cristiano Ronaldo is the first player to score at nine major international tournaments. Portugal played Spain in the ongoing World Cup in Russia, in a game which Cristiano Ronaldo scored a hat-trick. The commentators in that game praised Ronaldo as the first player to score at eight consecutive major international tournaments. The news filtered round the internet and on social congratulating Ronaldo on that remarkable achievement.
However, there were contestation to the claim that Ronaldo set the new record. Information from many social media users stated that Gyan had since achieved this feat, an achievement that was not as much celebrated by the media or people on the continent. Not even many Ghanaians celebrated that feat. At the 2006 World Cup Gyan scored one goal, and at the 2008 African Cup of Nations (AFCON) he scored one goal. In 2010, Gyan scored three goals at AFCON and three goals at the World Cup. In 2012 and 2013, Gyan scored one goal each at AFCON. In Brazil World Cup 2014, Gyan scored two goals.
Gyan reacted by saying, "People disregard my achievements I the World Cup history but I want the whole world to know that I have not been given the fair share but records will remain forever."
Unfortunately, many on the continent wait for something to happen before they celebrate their own. In this case, until the achievements of Ronaldo were being highlighted that is when the records of Gyan were brought to the fore. Ronaldo is only the second player to score in nine successive major tournaments.
In all, Gyan has scored six goals in three World Cups and eight goals in the African Cup of Nations. Many African players don't get the due they deserve, and this is mostly because they are not highly celebrated back at home.
There is still the mentality of waiting for validation from the West or Europe before appreciating our own. Until we learn to tell and share our stories without validation from foreign countries and celebrate our own, we will keep playing second fiddle and struggle to mainstream our achievements, and positive stories.