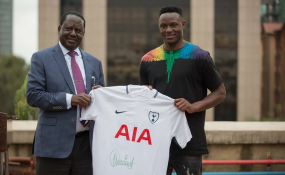 Photo: Raila Odinga/Facebook
A section of Kenyans have laughed off a promise by Harambee Stars captain Victor Wanyama that he will take Kenya to the World Cup in Qatar in 2022.
Wanyama made the pledge to former Prime Minister Raila Odinga during a courtesy call at his Capitol Hill office on Tuesday.
"Great meeting the Kenyan Legend Victor Wanyama of Tottenham Hotspurs. He stopped by Capitol Hill and promised to carry Kenya to the next World Cup," wrote Mr Odinga.
'STANDARDS OF FOOTBALL'
"I congratulated him on mentoring young Kenyans and encouraging them to follow his footsteps and lift the standards of football and professional sports in general in the country."
But Kenya, ranked 112 in the FIFA ranking as at June 7, 2018, has struggled to make it to the Africa Cup of Nations, the last appearance being in Tunisia in 2004.
Kenya was eliminated at the group stages after winning just one match against Burkina Faso and lost to Mali and Senegal.
It has also not made a mark in the regional tournament Council for East and Central Africa Football Associations (CECAFA).
Kenyans camped on Mr Odinga's Facebook to remind him of these few facts.
'EMPTY PROMISES'
Paul Mutie said: "So Victor Wanyama visited the people's President & promised to take harambee stars to the next WorldCup. Let the politicians also know how it feels to receive empty promises!"
Lisa M Musyoki commented: "Hehehe... Kenya to next world cup? Hiyo baba ni even far away from even the imaginary canan you promised. Let him promise qualifying the next AFCON."
Okoth Saka went on: "He is a great a player yes... but he can't carry Kenya to the Next World Cup. How now? He lied to you H.E."
Jilop Lenkala wondered: "Did you just say to carry? With what? Eeiiiiisssh! Baba, it's just better we keep our unbeaten world cup victory. Do you know we never lost in world cup simply bcoz we never participated? I thought you should know."
Evans Shiundu retorted: "That's how we feel when politicians gives us false promises..you just mentioned Kenya and World Cup in the same statement."
Emmanuel Swaka said: "That promise of carrying Kenya to the next world cup is null and void."