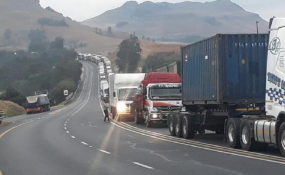 Photo: @TrafficSA/Twitter
Two major national routes were blocked by protesters on Wednesday, with the N3 at Van Reenen's Pass in KwaZulu-Natal and the N2 through the Western Cape town of George turned into no-go zones.
"Protesters have blocked the N3 Toll route in both directions at Van Reenen's Pass, between Harrismith and the Tugela Toll Plaza/Ladysmith," said the N3 Toll Concession Company, which manages the route and collects toll fees.
"Law enforcement and emergency services have been deployed to the area, but at this stage there is no indication when the road will be reopened. Motorists are advised to avoid travel to this area."
For essential travel, alternate route options are:
- R74 - via Oliviershoek Pass;
- R34/N11 - Vrede/Newcastle/Ladysmith;
- R23 - via Heidelberg/Standerton/Volksrust/Ladysmith;
News24 is still establishing the reason for the Van Reenen's Pass protest, but travellers can call for real-time traffic updates, or for other emergencies, on 0800 63 4357; or get traffic updates at the Twitter account: @N3Route. Meanwhile, the N2 linking towns in the southern Cape was also blocked by protesters in Thembalethu, a suburb that runs alongside the national route through George.
"Due to rioting in Thembalethu, the N2 is currently closed for motorists travelling from Mossel Bay to George at the Pacaltsdorp Bridge interchange area," the George Municipality advised.
As alternatives, it suggested that motorists travel into George via Airport Road;
- Travelling from Knysna, the N2 was open past the Garden Route Mall into George CBD;
- Motorists travelling from Knysna past George will have to divert via the CBD to get back onto the N2 after the Pacaltsdorp Bridge.
Regional ANC secretary Major Sokopo said he believed the protests were over electricity to shacks in Thembalethu being cut off, but he was still trying to confirm this.
He said at least three trucks had been damaged during the protests which had kept residents awake since 02:00.
"It's not a nice thing," said Sokopo. "They put tyres in the road also."
Source: News24