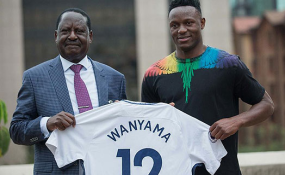 Photo: Nairobi News
By Eddy Kagera
Arsenal Kenyan die-hard fan Raila Odinga committed a cardinal sin when he accepted a Tottenham jersey on Tuesday.
The jersey was presented to Mr Odinga by Tottenham midfielder and Harambee Stars captain Victor Wanyama.
The jersey had number 12 -Wanyama's number at the Spurs- inscribed at the back.
For starters, English Premier League (EPL) sides Arsenal and Tottenham are usually engaged in football rivalry spanning decades, in what is called North London derby.
Both teams are based in North London with Arsenal based at the Emirates Stadium and Tottenham at White Lane (the team currently plays its home games at the Wembley as White Lane undergoes repairs).
Some 182 games have been played between the two teams since their first game in the Football League in 1909. Arsenal has emerged top with 76 wins, 57 wins for Tottenham and 49 games drawn.
CLUB LOYALTIES
To be fair, Wanyama is adored by all Kenyans their EPL club loyalties notwithstanding.
But when Mr Odinga shared a picture of himself with Wanyama, a few Kenyan Arsenal fans gave their take.
Kelvin OO said: "That moment someone presents you with a Tottenham kit yet you are a diehard Arsenal fan."
Kenny Junior wrote: "Can you please just move from support arsenal and be tottenham fan, we are tired of not winning trophies sir. It's unfortunate that in the world Cup you also support my favorite team since 2006, Germany."
Humble Mwelusi quipped: "And Tottenham will start losing... "
Ptormo Donald added: "Tottenham you will be losing your premier leagues games wait n see."
Jammo Onguto said: "Next time support Man U ,I'll be very happy The Enigma."