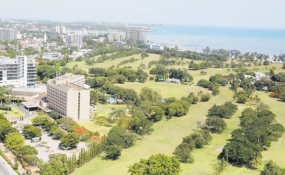 Photo: The Citizen
By John Green
Global professional services firm Ernst & Young has questioned the effectiveness of Tanzania's fiscal year 2018/19 budget on whether it can meet the demands of the country. The service providers' company held a meeting with economists and bankers to evaluate the country's budget and whether it will deliver the expectations of the public.
The global leader questioned the state of Tanzania's mainstay which is agriculture and the budget allocated to the sector, seeing that it needs more finances to support the economy. The Government has been castigated on the matter and has been challenged to inject more funds to the sector to cater for the different projects it has.
The economists asserted that emphasis should not only be put in the agriculture sector just because it's the country's mainstay but because it has the ability to cause a ripple effect to other sectors. They also note that other sectors like the manufacturing sector has the ability to positively influence other sectors and hence could be considered while making adjustments.
The most vital point clearly to be highlighted was for the Government to support local industry. This would elevate the standard of many companies and push out their local content to both domestic and international market. The local industry has suffered setbacks due to the dominance of foreign investments that have been welcomed courtesy of the business incentives the Government grant them.
As a result, the foreign investors have choked the growth of local manufacturers rendering a number jobless and counting their loses. Despite the huge contributions made by the foreign investments and the opportunities they offer to the citizens and Government, the local businesses need support to build a strong economy in the country.
Tax reforms in the new budget hope to increase the revenue collected by the Government so as to fund other developing projects. Smaller businesses have been hit hard as the hefty taxes have injured their businesses. The formation of a wider tax base would ease the burden off their shoulders and ensure the tax authorities collect massively without straining businesses in the country. It has been a factor that has shied off potential foreign investors in the country.
Tax on locally manufactured goods should be maintained to ensure that manufacturers are not hurt by the responsibilities and are supported. Heavy taxes in the name of building a future sustained budget could only lead to a closure of businesses and slow growth of the sector.
Infrastructure should be prioritized to curb business problems. Poor infrastructure such as inaccessible roads, lack of electricity have been a major blow to the economy. The growth of fleet in the aviation sector could increase foreign exchange revenue and bolster tourism industry.
The economists challenged the gratification of the budget that could trigger thoughts on the way around the budget. Will the public be satisfied with the budget allocation for the sectors and meet their needs as well?