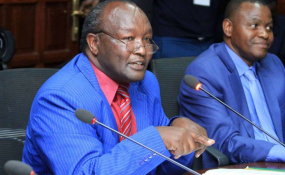 Photo: Jeff Angote/The Nation
By Samwel Owino
Maize infected with aflatoxin could soon find its way into the market after an internal audit on the Sh1.9 billion maize saga revealed that National Cereals and Produce Board (NCPB) bought maize that was infected.
The report tabled before the National Assembly Public Investments Committee by NCPB Acting Chief Executive Albin Sang indicated that the maize bought by NCPB in their silos at Moi's Bridge, Kisumu and Bungoma was infested, not dried and had developed moulds.
"A sample of white maize from top and bottom of silo bins were taken for analysis and the results were that the bottom was infested while the top was moulding. The maize was last fumigated in April 2018," reads the report.
In Kisumu silos, a total of 200,358 bags were delivered against Ministry of Agriculture approval of 148,770 and hence 51,588 bags was oversupplied.
INSECT DAMAGE
Grading analysis carried out by the regional quality and pest control officer in the bottom silo bins revealed high heat and insect damage on the maize while some were mouldy with moisture content of 16.4 per cent.
In Bungoma silo, an analysis revealed wet maize in several bins. It was established that 25 farmers had delivered more than 5,000 bags.
The silo received Sh325 million between November 2017 and February 2018. Out of the money received, Sh323, 610,360 had been paid out to farmers.
The auditors have called for disciplinary action against-Alfred Korir-acting silo manager, Leah Mutai and Rael Rono-(weighbridge clerks), Pius Ogoth (depot record clerk) and a Mr Ondieki (produce inspector) for allowing alteration of names of suppliers of maize that could have given room to supply of less maize.
NO OFFICIAL DOCUMENT
The clerks at the weighbridge stated in the report that they were ordered by Mr Korir to alter the documents despite there being no official document from the parties or silo manager to effect the changes leading to traders buying off maize from desperate farmers reflecting large quantities delivered by few farmers who are actually traders.
The report noted that at Eldoret silos, the process of maize purchase was not achieved as traders infiltrated the process leading to buying of excess maize that might have resulted to purchasing of contaminated maize.
According to the report, in Nakuru silos, there was alteration of weighbridge tickets done by the staff where the names of the original farmers altered to those of traders.
"The alterations were done by staff stationed at weighbridge to facilitate unscrupulous traders who were buying off maize from local farmers and amongst themselves within the NCPB premises for onward selling to NCPB at a profit," reads the report.
On Wednesdaay, NCPB acting chief executive officer Albin Sang told the committee that Cornel Ngelechey (General Manager, Finance) and John Gichuru (Finance Manager) were sent on compulsory leave on Monday.
VETTING PROCESS
The vetting committee consisting of the agricultural officer, chief and ward administrators should be called upon to explain why they failed in the vetting process.
Disciplinary action should also be taken against Willy Sang (ward agricultural officer),E.M Cheruiyot (Chief-Moiben) for authorizing excess quantities for the same piece of land for Celestine Chepchirchir.
The report found out that some farmers such as Celestine Chepchirchir were able to receive more than one copy of the form describing the same farm with the same quantity. The forms were also not standardized and did not have the ward administrator as a signatory.
Ms Chirchir according to the report was paid four times and delivered maize only once to NCPB. In some instanced she changed her name to Daniel Lagat Kiptanui, Reuben Kiprono Biwot, Paul Kibichy Biego and Ezekiel Kibiwot Mwei.