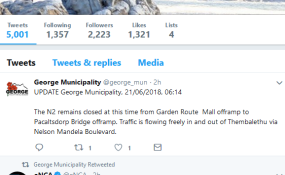 Photo: @george_mun/Twitter
Certain sections of the N2 in the Southern Cape have been closed due to ongoing protest action on Wednesday.
The road between Pacaltsdorp and Thembalethu is closed as community members from Thembalethu started burning tyres at Fourways. Western Cape Traffic Chief Kenny Africa suggested an alternative route through George on Wednesday night.
"The N2 still remains closed from the mall bridge, up to the Pacaltsdorp bridge. Nelson Mandela Boulevard is also open, up to Fourways," Africa said.
News24 previously reported that the protests were over the cutting of electricity supply to shacks in Thembalethu. However, this remains unconfirmed.
At least three trucks had been damaged during the protests, which had kept residents awake since 02:00.
As alternatives, the George Municipality suggested that motorists travel into George via Airport Road;
Travelling from Knysna, the N2 was open past the Garden Route Mall into George CBD.
Motorists travelling from Knysna past George, will have to divert via the CBD to get back onto the N2 after the Pacaltsdorp bridge.
Protests have also flared up in Knysna and the N2 near Nekkies has been closed off.
All emergency services are on the scene, according to the Eden Municipality.
Last week, protesters barricaded the N2 between Knysna and Plettenberg Bay. During those protests, a police officer had to be taken to hospital after protesters started throwing rocks at officials.
Source: News24