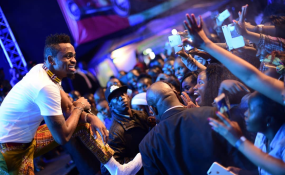 Photo: Diamond Platnumz/Instagram
Dodoma — Mbeya Urban MP Joseph Mbilinyi, popularly known as MC Sugu is planning to sue the National Arts Council popularly known by its Kiswahili acronym as Basata over the body's recent ban of his rap song.
Debating the government's Sh32.5 trillion budget proposal for the financial year 2018/19, Mr Sugu said he has directed his six lawyers to file a court case against Basata.
Basata, a government institution that regulates music, movies and other creative works, announced a ban on Sugu's new song dubbed #219 on grounds that it contained inciting message.
"Basata has officially banned Joseph Mbilinyi's song #219 because of its violent and incitement nature. The institution also blocks the rapper from performing, recording or distributing his music," Basata said in its recent press release reads.
It says the song does not only contain incitement messages but also did not follow the due process of release.
In Parliament, Sugu said it was unfortunate that Basata has decided to ban a 'leaked song' while debating the budget.
"The song has leaked. How could they issue a statement to ban a leaked song? They have never been to a recording studio. They don't even know the costs of recording a song. Do they want all of us to sing about love?" enquired Sugu, noting that it has reached a point whereby every institution in the country works like the Police Force.
But the Deputy Minister for Information, Culture, Arts and Sports, Ms Juliana Shonza stood up on a point of order and informed the House that she had personally listened to the song and got convinced that it (the song) was indeed inciting.
According to Ms Shonza, Sugu also erred by releasing a song without following the right procedures.
But in response, Sugu said: "I am neither Roma nor Diamond (in apparent reference to the banned songs of the two other singers). I have instructed my six lawyers to take measures," he said.