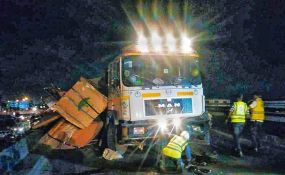 Photo: The Guardian
Three persons, a commercial bus driver, his conductor and a passenger, died when a truck loaded with boards and plywood tilted on the Ojuelegba Bridge, Surulere, Lagos State, late Tuesday night.
General Manager, Lagos State Emergency Management Agency, LASEMA, Mr. Adesina Tiamiyu, said two other persons were injured in the accident, which occurred at 8.p.m.
Similar accidents had claimed lives in the last three years. In one of the accidents in September 2015, in which three members of the same family died, the relations are pursuing a N10 billion compensation suit at the Lagos High Court.
Tiamiyu spoke with newsmen at the scene of the accident; as remnants of the plywood were being cleared to ease vehicular movement in the area.
He said: "A flat bed truck laden with plywood and finished boards tilted on top of Ojuelegba Bridge and fell on three commercial buses and a Toyota Camry.
"Unfortunately, two people died while two other people sustained injuries, but what we are doing now is recovery."
He added that the vehicle was definitely overloaded and "that was what caused the accident."
Tiamiyu urged commercial drivers to park at designated bus stops and to stop parking indiscriminately, noting that "if the buses were not parked indiscriminately, the accident would not claim lives."
In a statement yesterday, LASEMA said the emergency response prevented further loss of lives.
The food seller
A trader peddling food items at the scene said the incident could have claimed more victims but for the fact that the ill-fated bus just started loading when the incident happened; so only a passenger had entered.
The driver of the Mushin-bound bus was simply identified as Aro, his alias.
According to the trader, "when the incident happened, there was still traffic on the road. I saw a pregnant woman and her child alighting from a bus at that spot. The driver of the bus involved in the accident still bought food from me.
"In fact, when he finished eating, he asked me about his balance and I told him he had N30 left. He nodded and walked into the bus. But a few seconds later, we heard the loud noise of the planks descending from the bridge.
"Himself, his conductor and a passenger did not make it out alive," the dark-skinned woman added.
One of the bystanders claimed that the truck was stopped at Ijora axis by policemen for overloading and was advised against climbing the bridge before it was released.
Few minutes later, it ascended the bridge, tilted and discharged piles of plywood off the bridge unto the bus below.