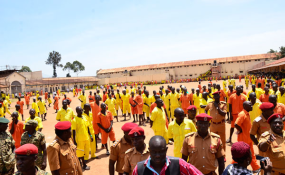 Photo: Alex Esagala/The Monitor
By Lilian Namagembe
Kampala — A 10-year observational survey has revealed that the prevalence rate of HIV among key populations, including female sex workers, homosexuals and drug addicts surpasses the national occurrence at an estimated 12 per cent rate.
The crane survey conducted by Makerere University School of Public Health and the US Centers for Disease Control and Prevention (CDC), shows that the prevalence of syphilis was high among the key population standing at between 6 and 35 per cent.
A crane survey is an HIV and health-related risk behaviour surveillance project.
The survey was conducted with an aim to generate HIV and sexually transmitted Diseases (STI) related information among key populations in the country.
The HIV/Aids national prevalence survey currently stands at 6 per cent, according to the 2016 Uganda population HIV/Aids Impact Assessment (UPHIA).
In one of the studies conducted among gays, the research found that those gays who reported anal or genital STD symptoms in the previous 12 months had three times the odds of HIV infection compared with gays who reported neither.
"The high prevalence of HIV disease among sex workers in Kampala suggests that the goal of 90X90X90 targets for testing, treatment and viral load suppression and the vision of an Aids free generation will not be achieved unless the HIV epidemic in this key population is contained," the research conducted between 2008 and 2018 states in part.
The research also adds that female sex workers in Kampala are at an extremely high risk of HIV infection and violence, recommending that Uganda's national Aids control strategy needs to recognise the HIV epidemic among sex workers as a public health crisis.
Prof David Serwadda, the research principal investigator, said despite the high prevalence rate of HIV and other STDs among the key population, their access to HIV preventive services such as condoms and pre-exposure prophylaxis is still poor.
"If we are to fight HIV, we cannot ignore these key services because it does exist with a high HIV prevalence. Their access [to health services] is probably poor, and their viral suppression is fairly below average. So there is need to double prevention services among this group," Prof Serwadda said.