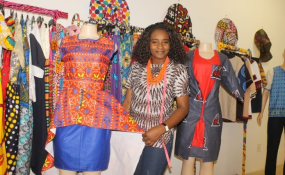 Photo: New Era
By John Muyamba
Rundu — Thirty-two-year-old Theresia Dominga Dinyando, fondly known as Minga, is striving to enchant fashion lovers who have a taste for intricate African designs at Rundu.
She designs dresses and other outfits with an African touch for any occasion and owns two beauty salons.
Dinyando, who was once a full-time nurse, says she prefers designing clothes than being a nurse as she has always had a thing for the sewing machine and clothing materials since her childhood.
"I always had the interest - I grew up in Andara close to my great-grandfather who was a tailor. He used to make outfits for the nuns at the mission as well as for the priests," she says.
"I was always surrounded by sewing machines and material and on top of that my mother is a wedding planner, event decorator, so I was always dealing with this and wanted to sew my own clothes. My great-grandfather taught me how and I grew up with that passion.".
Dinyando, who is the first born of five children, is married with four children and is a Mbukushu indigene from Kavango who was born at Andara village but now lives in Rundu.
"I'm a nurse by profession but I resigned because I love what I'm doing," she informed New Era.
Since she's not really an outgoing person, the seamstress says she loves to keep to herself most of the time. "I resigned from my nursing job and now I spend most of my time as a full-time clothier," enthused the dressmaker.
When asked how she would describe herself, she said: "I'm untamed and very unpredictable. I can be described in many ways - I can be quiet or loud when and if I want to."
She aims to be a supplier of school uniforms and graduation gowns in the two Kavango regions and later expand to other regions. Although business is tough in Rundu and she only started dressmaking full-time in 2016 she is positive it will work out as she is still building up her clientele.
"When I first applied at varsity my first choice was fashion design and nursing was second. My mother was like never, which fashion design and who is going to pay for it? I had no choice, I just had to do nursing. I also love nursing as my mother was a nurse at that time, so me choosing fashion design was a big no and I ended up doing nursing," she added.
"You know you need something to back you up as you know the fashion industry in Namibia is something that doesn't really pay, so a backup is needed."
She designs outfits for various occasions like weddings and others and makes handbags and jewellery as well.
"My memorable design is a handbag made from scraps of boxes and other material. I carried it to Windhoek one day and this white lady approached me and asked me where I bought the bag. I told her I made it and she was very impressed."
During her free time she rehearses with a gospel band that she joined.
"The band is dynamic ... we are an inter-denominational band, we don't belong to a certain church, we are a group of people from different churches," she said.
"I would like folks to remember me one day as the one that was never fearful of taking risks. You only live once so they say, so you need to take risks and live your life to the fullest. I want to be remembered as that particular person," said the clothier operating opposite Rundu Police Station.