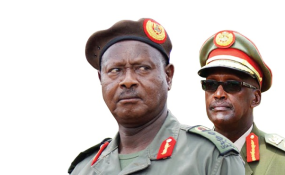 Photo: The Independent
By Isaac Mufumba
As President Museveni ascends the podium today to address Parliament, his in-tray will be full with insecurity incidents in the country. The population will, however, be keen for solutions in the out-tray.
Mr Museveni last week requested Speaker of Parliament Rebecca Kadaga to offer him an opportunity to speak to Members of Parliament on eroded human security, and he expects the legislators as people's representatives will disseminate his message to all Ugandans.
"Please, Speaker, give me time next week to come and address this issue of insecurity," Mr Museveni said in comments shortly after Finance Minister Matia Kasaija read the 2018/19 Financial Year Budget last Thursday.
The President will be addressing the House in his capacities as the head of state and commander-in-chief of the armed forces, which bestow upon him the primary duty to safeguard the country and its citizens.
The President will be addressing the House in his capacities as the head of state and commander-in-chief of the armed forces, which bestow upon him the primary duty to safeguard the country and its citizens.
He has at his disposal the Uganda People's Defence Forces (UPDF) to safeguard Uganda's territorial integrity and national sovereignty; the Uganda Police Force, to protect the lives and property of Ugandans, as well as detect and prevent crime; and, intelligence agencies to collect and collate intelligence information to inform governance decision-making.
The President will also be speaking to assure Ugandans and project himself and his government as guarantors of peace and stability for which he and his government have received praise in the region and internationally.
Have these agencies been working flawlessly? Are they handicapped by manpower, technical capabilities or other resources? Or, is it a problem of command and control alongside inter-agency rivalry?
Too many questions

These questions have bothered Ugandans since the surge in insecurity marked by violent killing of Muslims clerics and government officials, unexplained rape and mysterious killings of women, kidnaps for ransom and or murder and burglaries.
The latest incident was the June 8 assassination in Kawanda, Wakiso District, of Arua Municipality MP Ibrahim Abiriga and his brother Saidi Kongo, a UPDF soldier who doubled as his bodyguard.
In all cases, the gunmen trailed their targets for days, cornered each in what President Museveni described in the wake of Abiriga's elimination as a "choke point", and fled on motorcycles. Their clinical missions suggest the handiwork of trained assassins.

"Your Excellency, you are the commander-in-chief of the armed forces; you have fought many wars and defeated the enemies. Why are these types of killings happening?" Arua District chairman Wadri Nyakua asked the President during Abiriga's burial on June 11.

He added: "We are living under fear, under panic because I don't know if I'm going to be shot today or tomorrow. You are still in-charge and these types of killings must stop, Your Excellency."
The mourners uncharacteristically clapped, meaning the messaging captured their imaginations and concerns over deteriorating security.
The brutal killing of the all-yellow-attire MP, a front player in scrapping of the presidential age limit, sent shockwaves and panic across the political divide.
Speaking at his interment, his colleague, Peter Ogwang (Usuk, NRM) said "this country is degenerating into a situation where it will soon be ungovernable."
It is to such tribes of concerns that the President will be expected to apply himself to assure citizens that he has not lost the grip on one of his most enduring achievements: peace and security.
The President and government officials have been famously proud that the stability ushered in by the ruling National Resistance Movement (NRM) has enabled "Ugandans to sleep", a feat they bandied for electoral fortunes as well.
"The NRM has a sterling record of performance that no other party can measure to, let alone challenge. It has stood the test of time and its experience in ensuring peace and security and macro-economic stability is unmatched," the party's 2016 election manifesto reads, in part.
The UPDF says it has since 1987 fought against and defeated 27 rebel groups. It confirmed early this year that the only external national security threat is posed by the Allied Democratic Forces (ADF) rebel group based in eastern Democratic Republic of Congo, and whose alleged leader, Jamil Mukulu, is facing prosecution in Kampala.
It is difficult to state with precision whether the country is more unsafe now than before, especially that police have not released the annual crime report for four consecutive years now.
With many suspects, including children, arrested in the aftermath of the violent killings, Ugandans will look up with hope for answers to some of the following key issues:
One novelty the NRM says it introduced was Mchaka Mchaka courses, a paramilitary training of Ugandans, calculated, among other things, to demystify the gun.
Now the latest kidnaps and killings have been executed by gunmen on the loose. The government marked its guns, but some of them have been found in possession of robbers, suggesting hire of arms to outlaws by security organs. There is no accurate number of illegal guns in the country. A successful disarmament, for instance in Karamoja, is undercut by arms smuggling through porous frontiers with unstable neighbouring South Sudan. The threat of gun violence has prompted more Ugandans to sign up personal arms for protection. By the end of 2016, police records showed that there were up to 19,000 guns in private hands, including private security firms.
By mid last year, the Internal Affairs ministry was handling between 2,400 and 3,000 firearm applications mainly by politicians and businesspeople. The rush for private firearms, and the massing of guards for top government officials, underlines the decline of public faith in the state's ability to protect them.
The President would be expected to reassure how the government he superintends plans to restore public safety and security as common public good.
Arrests
The army exactly a week ago, today, took the former Inspector General of Police Kale Kayihura into custody. On the same day, other high-profile police officers were also picked and incarcerated. These included former Flying Squad Unit commander Herbert Muhangi, ex-police Crime Intelligence director Col Ndahura Atwooki, former head of the Force's Cyber-Crime Richard Ndaboine and Lt Col Peter Musherure. Some of their colleagues are reported to be on the run. And more arrests are expected. For a military general that the President extolled as a "good cadre" to turn a jailbird only three months after his sacking has raised more questions than answers. It is expected that the President will offer insights, even if not as detailed, into the reasons for rounding up of top police officers who join seven colleagues detained last year.

Police criminals

During the vigil for slain police spokesman Kaweesi in March last year, President Museveni revealed that criminals had infiltrated the Force and directed Gen Kayihura, who was then in-charge, to weed them out.
"All these murders, I have followed myself. There are always clues leading to the criminals but the criminals have infiltrated the police," the President said.
Seven months later, seven senior police officers; Nixon Agasirwe, Joel Aguma, Benon Atwebembeire, James Magada, Amon Kwarisiima and Abel Tumukunde, seen as close to the IGP, were arrested and subjected to a military trial. The formal charges against them include, among others, the kidnap and illegal repatriation from Kampala of Lt Joel Mutabazi, a former bodyguard of Rwanda's president Paul Kagame. This is so far the only on-the-record foreign connection of the officers and their alleged crime.
During this year's Women's Day celebrations in Mityana, which came a few days after sacking Gen Kayihura, President Museveni repeated the claim that criminals had infiltrated the Force, which was making it difficult to arrest criminals even after he removed the "bean weevils".
Murders

The national objectives and directive principles of state policy enunciated in the Constitution commands all organs of state and people of Uganda to work towards the promotion of national unity, peace and stability. The unexplained and unresolved killings has the population on tenterhooks.
In the last six years, the country has been rocked by more than 12 high-profile shoot-and-kill incidents. Many incarcerated suspects have been freed for lack of evidence. It is expected the President will outline a robust plan to bolster the investigative capacity of Uganda's security and intelligence agencies to assemble infallible evidence to incriminate and secure convictions against outlaws.
Crime preventers

They number, according to former IGP Kayihura, about 11 million. While addressing them on March 28, President Museveni said the crime preventers would be re-hatted under the UPDF. They under the law are ineligible to be an auxiliary force. With a number already arrested for crimes, some including gun violence, their existence is as much a security concern.
Unemployment
The unemployed are susceptible to recruitment for criminal enterprise. They lose nothing and stand to gain everything. The 2014 national census found that 58 per cent of the population in the productive age bracket of 14 to 64 years, about 10.4 million people, were unemployed. The number of the jobless has only worsened.
Confidence crisis
One of the biggest challenges that the security forces have to deal with is how to restore public confidence in the various security agencies so that the public might be able to cooperate with them in the fight against crime.
One solution, as pointed out in the NRM's 2010 manifesto, is strengthening community policing. Yet President Museveni said last year that the population fears to volunteer information to police because it is infiltrated by criminals.
Criminal gangs
From iron bar hitmen, Kifeesi, Boda Boda 2010 in Kampala to machete-wielding attackers in Masaka and the Fire Eaters, Aerial Boys and Jajamini in Arua, a plethora of criminal gangs rule Ugandan towns. They snatch bags and valuables, electronics, fuel burglaries and urban crimes. Police and other security forces know their whereabouts, but cannot dismantle the groups. A Kifeesi member told a press conference addressed by Kayihura last year that they work with police.
Inter-agency fights
Last year saw rising tensions between the police and both the Internal Security Organisation (ISO) and the Chieftaincy of Military Intelligence (CMI). Former Deputy Inspector General of Police, Mr Julius Odwee, warned in an interview in March that the squabbling was likely to compromise national security and hand the enemies the initiative.
"They were entrusted with overseeing the security of the country. This continued bickering is diverting them from the real work. This can be an advantage to any enemy," he said.
On February 14, Mr Museveni discounted the matter as a duel between then Security Minister, Gen Henry Tumukunde and Gen Kayihura, whom he sacked about a month later.
Compensation
Many suspects arrested by security organs have been tortured, such as the Kamwenge Mayor, or deprived of liberty on false information. Their lives and fortunes have been destroyed. The Constitution imposes upon the President protecting welfare of citizens.
Rebellion
With ADF rebels, the only active insurgents against President Museveni's government, on Uganda military's watch and the Joseph Kony-led Lord's Resistance Army band hibernating in Great Lakes region's ungoverned corners, all is expected to be peaceful in the country.
The emerging pattern of targeted killings of policemen on patrol and gun grabs present the possibility of a more sophisticated criminal network. Warning messages of impending attacks, and execution of the threats in some parts of Uganda, raise question about a possible organised group. By eroding human security, the keep citizens are worried and with diminished faith in government. Who are they; a new rebel group or a reinforced ADF? And are these acting alone or with foreign help?