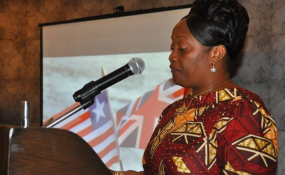 Photo: Liberian Observer
A staff in the Office of Deputy House Speaker, Prince Moye, has been sued by Vice President Jewel Howard-Taylor and Representative J. Marvin Cole of Bong County.
Aliue Sackor, (AKA) Haircrates Sackor was sued at the Gbarnga Magisterial Court in Bong County for alleged comments he (Haircrates) made on social media against the characters of the two senior government officials.
"R.L. by & thru J. Marvin Cole and Jewel Howard Taylor of Gbarnga City, Bong County, Liberia (Plaintiff) Verbs Aliue Sackor, (AKA) Haircrates Sackor to be identified of the same address (Defendants)," a court document from Bong County said.
Vice President Taylor and Representative Cole are taking advantage of criminal libel against the President (section 11.11) and criminal Malevolence (Section 11.14), all of the New Penal Code.
Section 11.11 of the 1978 Penal Code, which is placed under Criminal Libel against the President, states: "A person has committed a first degree misdemeanor if he exposes to the public any writing, or makes any public broadcast, in which he has accused the incumbent President of the Republic of Liberia of conduct which constitutes the commission of a crime, provided that at the time of such publication,"
Also, Section 11.14 placed under Criminal Malevolence indicates that: "A person has committed a first degree misdemeanor if he accuses any executive authority, judicial authority, member of the Legislature or any other public authority either by word of mouth, writing or by public broadcast of conduct which constitutes the commission of a crime, provided, that at the time of such accusation."
Based on this, the court has therefore issued a writ of arrest for defendant Sackor.
In the writ, Associate Magistrate William G. Capehart, Jr., of the Gbarnga Magisterial Court ordered SGT. Sumo Sulon, Magistrate Police to arrest the living body of Haircrates and bring him before the court to answer to the crime as stated above.
In their complaint, Representative Cole and VP Taylor presented Facebook page believes to be for Haircrates Sackor, where 'defaming' words were directed at them.
In his post, Haircrates Sackor said "this son of worthless and internationally hopeless prostitute, Melvin Cole does not deserve any serious attention, especially from conscious people like us. Folks the main reason I have decided to respond to his desperate son of a fortune hustler is that in the study of revolution, never allow an insignificant son a valueless prostitute like Melvin Cole to launch an attack and walk without impunity. You imagine, the moronic creature (Cole), who is currently having some erotic affairs with Jewel had the bravery to send some misguided buffoons to direct insults at the Deputy Speaker and his family."